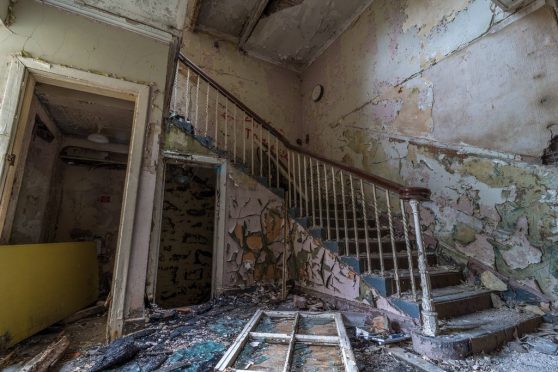 New images from inside the decaying Strathmartine Hospital have prompted a warning that someone may die after unlawfully entering the dilapidated property.
The photographs posted on an urban exploring website have triggered fresh concerns  over the risk posed by the empty buildings, with one local councillor fearing it is a "matter of time" before there is a fatality at the vandal and theft-hit site.
Fire chiefs whose local crews have attended a spate of incidents which were highlighted as a major contributory factor in a spike in secondary blazes in Angus have added their voice to the latest criticism of illegal intruders.
The photos uploaded to the Derelict Places  website show how increasingly dilapidated the building has become internally.
Derelict Places is a photography forum that specialises in the history and documentation of disused and abandoned buildings . The website's tagline is "Documenting Decay".
But developers who have frequently condemned those responsible for theft and fireraising at the Strathmartine say no permission was given to enter the old buildings.
The pictures, which were uploaded by a user going by the online name Brewtal on October 22 show some external images but mostly feature the collapsing interior.
Sunken and debris-littered flooring, broken windows and overgrown weeds are captured in the images.
Monifieth and Sidlaws Conservative councillor Craig Fotheringham said he is worried someone is going to have a fatal accident breaking into the facility.
He said: "It beggars belief why someone would go in there. They've got no respect for other people's property.
"Security is probably lacking but at the end of the day everyone knows that it is unsafe. I think it is only a matter of time before there is a fatality.  It's not a place for folk to be playing around."
The Scottish Fire and Rescue Service has also issued a warning over people entering empty and dilapidated buildings.
Roy Dunsire, group manager, said: "We have found from experience and intelligence that unoccupied buildings can be targeted by malicious fire-raising.
"We would urge the owners of derelict properties, wherever possible, to ensure that they are properly secured to help minimise risk such as unnecessary fires.
"Structures such as these have the potential to cause great risk to members of the public who are thinking of entering them for any reason.
"For younger people, these structures can appear to be an area for adventurous play, however the danger of harm is very real."
Robert Evans of planing consultant Muir Smith Evans, who represent the building's owner, said: "The pictures are an accurate depiction of the state of the building, though the pictures seem to be taken of the worst parts.
"We have no record or knowledge of these photos being taken so it seems that some has let themselves in. We would absolutely discourage anyone from entering the building as it is a safety concern."
The hospital was decommissioned in the late 1980s and closed in 2003.
In 2015, Scottish Ministers upheld an Angus Council decision to allow new housing on the site and the conversion of the B-listed main building after neighbouring Dundee City Council objected to what it deemed "excessive" redevelopment plans.
However, a legal planning agreement between the developer and NHS Tayside has yet to be concluded.
The former hospital remains on Angus development standards committee's enforcement list and councillors at the most recent meeting were told building standards officers continue to regularly visit the site to ensure the buildings remain boarded and blocked up.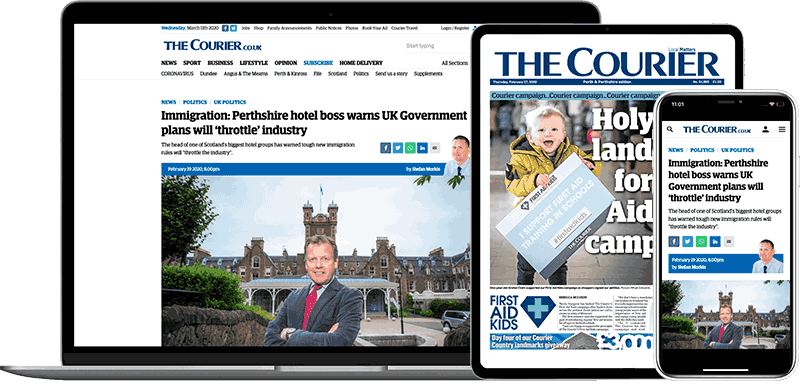 Help support quality local journalism … become a digital subscriber to The Courier
For as little as £5.99 a month you can access all of our content, including Premium articles.
Subscribe