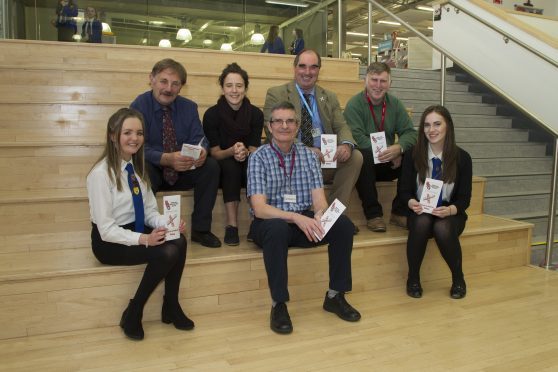 A new charity dedicated to improving the health and wellbeing of people in the Brechin area has been officially launched.
Brechin Healthcare Group has been set up by local campaigners in response to a series of challenges in recent years, including a doctors shortage at the town health centre.
Grahame Lockhart, one of the group trustees, said the aim was to work with local people and organisations, as well as with Angus Council and NHS Tayside to develop  services to meet the specific needs of the community.
"We want to help people in Brechin, Edzell and the Glens to take ownership of their health and wellbeing," he said.
"This launch marks the start of a new era for healthcare in the Brechin area.
"Ultimately, our vision is to develop a community-owned and run health and wellbeing hub that works for everyone and addresses needs within the Brechin and the rural landward area."
Angus Council leader Bob Myles, local SNP MSP Mairi Gougeon and Conservative MP Kirstene Hair are backing the scheme, which has received support from the local authority's Your Budget Your Choice (YBYC) fund.
Brechin and Inveresk Community Councils, the Salvation Army, local churches and schools were also represented at the launch event.
Mrs Gougeon, who has been campaigning for the retention of services including the Mulberry adult psychiatric unit at Stracathro Hospital, said: "Brechin Healthcare Group has very ambitious aspirations over how to transform healthcare within Brechin.
"Those aspirations are backed up by the knowledge and expertise of the members of the group, which includes some former and current healthcare professionals.
"The fact that Brechin Healthcare Group was successful in the recent Your Budget Your Choice event shows the support it has locally and I very much look forward to working with this group to achieve better healthcare in Brechin."
Ms Hair said: "It's encouraging to see local people stepping up and looking to help with delivering the healthcare Brechin needs.
"Of course, there will be challenges and there will be a broader discussion going forward about the best way to achieve our shared ambition.
"It is vital that we, as a community, tackle these challenges head-on and with so many local partners engaging to deliver the best local health service possible."
Brechin Healthcare Group is embarking on a series of conversations throughout the area, starting tomorrow at Andover primary school from 3pm to 7pm.
"This is a chance for people in the Brechin area with opinions, issues or ideas about local healthcare and health improvement to share their thoughts with us," said Mr Lockhart.