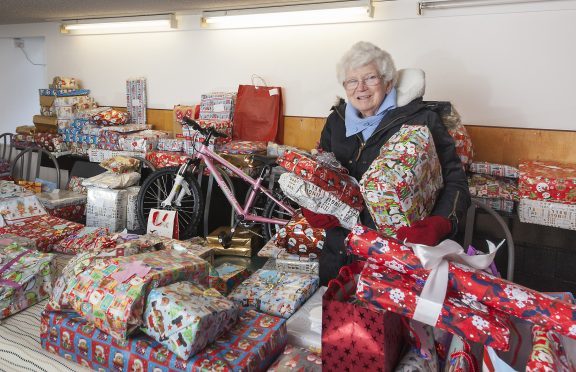 The branches of Brechin's angel tree are once again heaving thanks to the festive generosity of locals.
As the 2017 version of a tradition stretching back to the Cold War era of the former US Navy base at Edzell heads towards its collection conclusion, organiser Irene Gillies has said that the kindness of people from the town and surrounding area has once again surpassed all her expectations.
The angel tree idea began when US servicemen stationed at Edzell decided they wanted to do something for families facing a tough time at Christmas, and they gathered presents to hand out  in the community.
Former nurse Irene, whose charity work for a range of organisations has taken her to a number of countries across the globe and also includes collections of good for Syrian refugees, re-launched the  tradition in which a tree is 'planted' in Brechin cathedral for kind visitors to take a tag from and donate a gift for a deserving child.
In recent years the annual response to the initiative has steadily grown, and with the deadline for handing in presents falling on Sunday, Irene said this year has again revealed the true spirit of the season.
Almost 90 angels on the tree were plucked from its branches within days, leading to a steady stream of gifts being delivered to the Swan Street collection point, with many more gifts being added to the pile.
"The generosity has been amazing and I can only thank people again for how kind they have been," said Irene.
"People that visited Tesco took 10 of the angels, and a £100 cheque was also handed in."
Irene said the appeal had also been given some bicycles and when they were taken to the local cycle shop to be checked over the owner donated a new child's bike to the appeal.
Fern, Careston and Menmuir Church is also a regular supporter of the cause and has once again donated a number of presents.
"Everyone is so good at rallying round and the store is absolutely packed — we are so grateful."
The final day for handing in gifts is Sunday, after which the parcels will be readied for distribution to dozens of families in the lead up to Christmas by Irene and a dedicated small band of helpers.