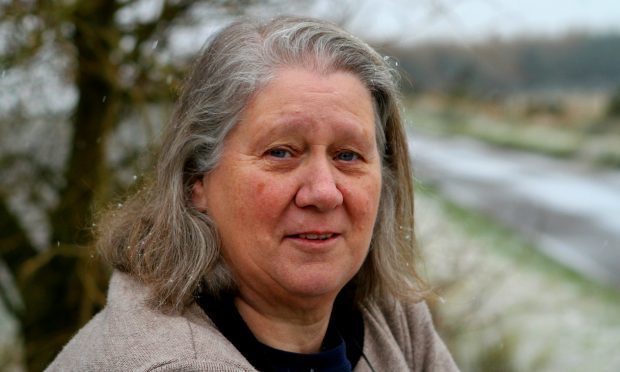 An Angus woman haunted by childhood abuse has broken her silence in a bid to save lives.
Joyce Fox was put into care after the death of her mother and told how the abuse she suffered robbed her of her childhood.
She was then taken out of care to live with her father, who has since died, where she was subjected to "daily beatings".
Ms Fox, who now lives near Arbroath, has now decided to speak out so those who are suffering know they are not alone.
She said a Scottish charity has helped her come to terms with what happened and she is urging others who have gone through similar experiences to get the help they need.
Joyce, originally from Glasgow but living in the county since 1981, was just seven years old when her mother died of cancer in 1963.
The family were then split up: she and her younger twin brothers ended up at a Kilmarnock care home, which closed in 1980. They were not told what happened to her older siblings.
"It was a hellish place," she said. "I had a doll that was the only connection I had to my mother and as soon as we arrived it was taken from me and given to another kid in the dormitory."
She said she was physically beaten for protesting, as well as being attacked by staff on other occasions.
Her worst memory was the "Saturday morning ritual" as she called it, when all the children in the home — about 50, she thinks — were taken to a hall and told to take their clothes off. They were then put in one of two baths to be scrubbed with a hard brush in front of each other. "It was humiliating," she said.
After leaving care she went to live with her father again, who had remarried, only to face "daily beatings".
"The care system failed us when they put us in care and they failed us when we left. We should never have been let back to live with him. We were forgotten about.
"This has affected me in so many ways. I find it hard to trust people, I've made bad relationship decisions and I don't like being around people.
"I hate Christmas and it's definitely a result of the past. It's robbed me of that."
She now receives support from Future Pathways, a charity that launched in September last year and provides support for abuse survivors in Scotland. It is supported by funding through the Scottish Government.
"If just one person gets in touch to get the help they need then me coming forward will have been worth it," she added.
Flora Henderson, head of Future Pathways. said: "Joyce is an inspiration. Her positive experience (with Future Pathways) encourages and motivates us to continue working with people to ensure that they have the support they need."
Anyone wishing to register for support should call 0808 164 20005. The office will be closed from Christmas Day and reopens on January 3.
The Scottish Parliament passed a bill on June 22 which removed the limitation period for actions of damages for personal injuries from childhood abuse.