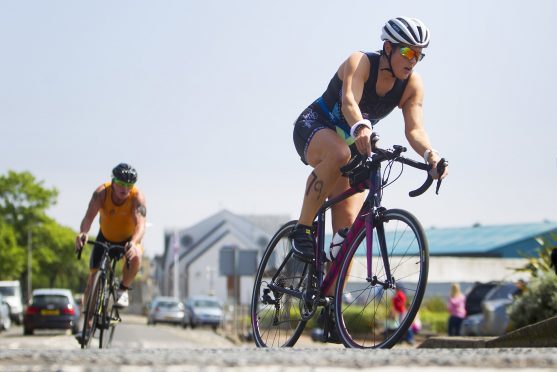 The soaraway success of the sell-out Montrose triathlon has spawned another local sporting challenge set to draw participants from across the UK.
Just a few years after establishing the Montrose event which has now become one of the big draws on the calendar, not-for-profit enterprise Tri Angus has announced the first Forfar triathlon on Sunday July 22.
And expectations are high that the new event will enjoy a flood of applications when entry opens early in the new year.
The Forfar event will include a novice race which will present the ideal opportunity for those looking to take part in their first triathlon, and a sprint race aimed at those with a little more experience or who are a little more daring.
It will be based at the Forfar Community Campus, where participants will swim either 16 or 30 lengths of the pool (400m or 750m), before embarking on a cycle route through what organisers hope will be a spectator-lined town centre and then on to country roads, before a run around Forfar Loch to the campus finishing tape.
There are 240 places available for the new event and, based on the success of the Montrose triathlon, it hoped the Forfar challenge will prove popular when entries will open on Monday January 15.
Event organiser Maggie Lawrie said: "The Montrose triathlon, now in its fifth year, continues to grow year-on-year and we believe the demand is there for a second event.
"Last year Montrose sold out within hours of opening entries in January and we had a further 165 on a waiting list. Triathlon is definitely a growing sport in Scotland."
Maggie added: "Based on our figures from Montrose we expect to attract participants from all over the UK, as well as many from Tayside.
"We believe these events are a fantastic way of showing what Angus has to offer. There are some amazing bike and run routes in the area, as well as great places to stay, eat and visit.
"These events are a great way of attracting visitors to the local area."
She continued: "As with Montrose, we cannot run our events without the support from the local community.
"We need a small army of volunteers on the day to help keep all the participants safe and heading in the right direction so would ask anyone who is keen to help to get in touch.
"We also need support from local businesses so if anyone is interested in sponsoring the event we would love to hear from you.
"We have a number of sponsor packages available which also include complimentary places at the event."
Full details of the event can be found on www.triangus.co.uk.