A football loving 12-year-old with cerebral palsy can finally play the game with his pals on an Xbox – thanks to a specially designed controller.
Finlay Sangster, from Stonehaven, was surprised at his school by British Airways pilot Jonathan Knowlson and whisked off to London as part of the project BA Magic, which aims to create special moments.
The young Rangers fan and Mill O' Forest pupil has always wanted to play Xbox with his friends but was unable to due to his condition.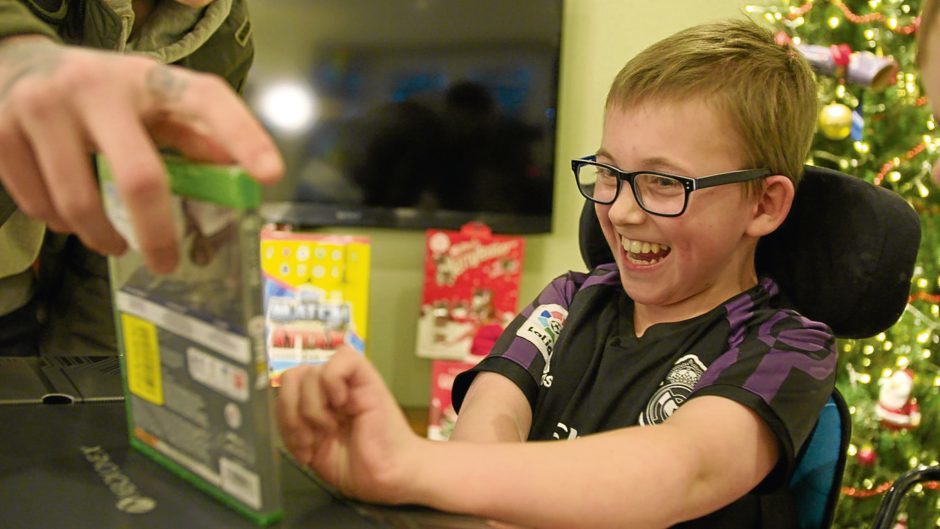 His mum Gail had looked into the possibility of buying him the game console then using a specially adapted controller from the charity SpecialEffect in Oxford, but the idea had remained a pipe dream.
However, she e-mailed BA and asked whether they could help out in any way.
Gail said the airline had gone above and beyond on the family's behalf; it even arranged for Rangers player Josh Windass to show up at their home at the end of their experience and personally deliver the Xbox to Finlay.
Gail said: "Johnny, the pilot, showed up at Finlay's school to surprise him in a Lamborghini then took him to the airport in style.
"We were put up in a lovely hotel and the company really went above and beyond for us – as well as getting us to SpecialEffect so Finlay could work with them to specially adapt a controller."
When British Airways organised their surprise visit to Finlay's school they also presented him with a signed Real Madrid shirt from his idol Cristiano Ronaldo – addressed to Finlay by the superstar – and he received a video message from Rangers' captain Lee Wallace.
Finlay was then told he and his mum, dad Bruce and his five-year-old brother Brodie would be flown to London for the youngster to get his very own bespoke Xbox controller.
And Finlay's father, a supercar fan, was allowed to drive them to the airport in a Lamborghini Huracán Spyder.
The following day, British Airways made arrangements for Finlay and his family to visit SpecialEffect – a charity that helps people with disabilities play video games, by using technology that ranges from modified joypads to eye-control.
BA ensured there was some magic included for Gail and Bruce too, by surprising them with a holiday to New York – the city they had been desperate to return to for their upcoming wedding anniversary.
Gail said: "It has just been so amazing – this whole experience. It is hard to put it into words.
"Finlay's dream was to be able to play an Xbox and BA made his dream come true. "You see and read these stories about people and you never in your wildest dreams believe it will happen to you."