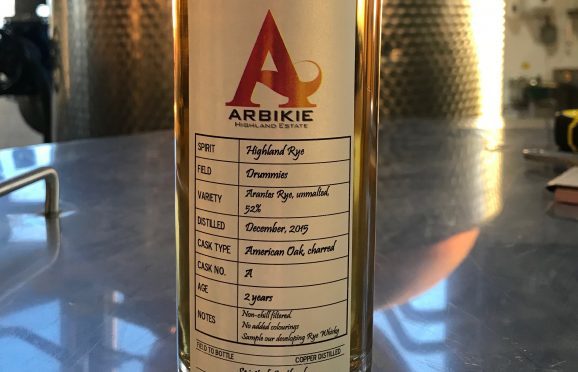 Angus distillery owners have produced the first bottles of rye whisky in Scotland for more than 100 years and will sell it to honour their father.
Arbikie Highland Estate has used rye grown on its farm to produce Highland Rye, which is being sold in limited numbers to raise money for charity.
The Inverkeilor-based business has been growing a variety of different ryes on since 2014 and its distillers have been researching and developing rye spirits by experimenting with varieties and production techniques.
Arbikie Highland Estate was launched by brothers Iain, John and David Stirling in 2014, reviving the traditions of an industry that thrived on the site in the 18th century.
They have since won awards for their potato vodka and gin.
The rye whisky release marks the sale of their first brown spirit, though they are also working on producing a single malt using barley grown on their farms.
Iain said: "There hasn't been a lot of rye grown in the recent past in Scotland as it's not really a commercial crop but we wanted to use rye in our whisky making.
"Angus is a good place to grow and it hasn't been done for over 100 years which is quite surprising.
"Rye whisky does seem to be very on trend at the moment as some other distilleries are also looking at it – including Ian Palmer at the InchDairnie Distillery in Glenrothes and Bruichladdich in Islay.
"It's nice to see that happening because you are creating a category that doesn't exist right now."
The limited run of 355 bottles, which have aged for two years and are priced at £100 each, will raise funds for the Euan Macdonald Foundation for Motor Neurone Disease.
"Our father has motor neurone disease so it felt right to support the charity looking into research," Iain added.
"The product tastes great. It's very smooth with a rich spicy character and a dry finish.
"The benefit we have from being both farmers and distillers and it gives a natural provenance.
"The label on the bottle details the field, variety of rye and the process. It's about transparency, visibility and location."
The company is planning to add two different rye whiskies as part of their regular range next year when they have matured for three years.
The first, classed as a Scottish Rye Whisky in line with The Scotch Whisky Regulations 2009, consisting of over rye and odyssey malted barley, both grown on the Arbikie farms.
The second is an American version in line with techniques typically used in North America.