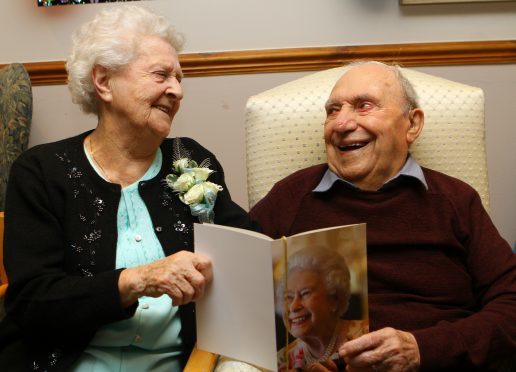 An Angus couple who were married in the same year as The Queen and Prince Philip have shared their secret to success.
Neil and Helen Scott from Forfar are celebrating 70 years of marriage and said they were honoured to be sharing their anniversary year with the monarch.
Forfar born and bred, the couple celebrated the remarkable milestone with daughter Ann at the town's Lochbank Care Home in the town where Mr Scott has been getting looked after since January.
Mrs Scott said: "The secret is to find a very kindly man and that's exactly what my husband has been.
"It's also about looking after one and other and that's what we've always done.
"Neil has been super and although we've had our ups and downs there has rarely been a crossed word. He's a very considerate man and I still love him today as much as ever.
"We've made lots of lovely memories together. Not too many people get to 70 years so we are very lucky."
The couple got married at Lowson Church in Forfar just a month after the royal wedding.
The anniversary card the couple received from The Queen was the third they have received during their marriage.
"She's a very special lady," said Mrs Scott.
"I've a great deal of admiration for The Queen and – despite the odd hurdle – she's sailed through everything."
Mr Scott, 93, worked in machinery, while Mrs Scott, 91, worked in the Forfar laundry.
The couple have two children, Ann and Alan, five grandchildren and seven great-grandchildren.