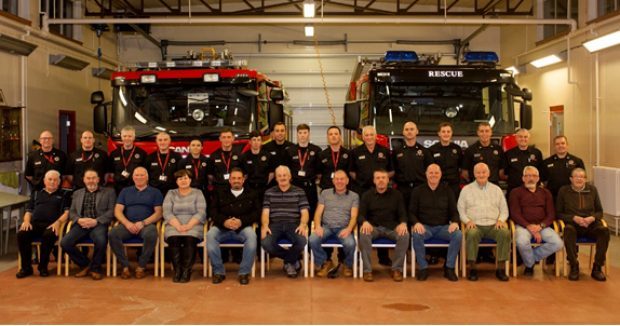 Former Montrose firefighters have returned to the station for a trip down memory lane.
Bill Ruickbie, who was station officer from 1989 to 2001, was among those invited down to meet the present crew.
The retired firefighters were given a tour of the station and shown the equipment which is now being used by their successors.
Mr Ruickbie said: "When I first started, we used to respond to the siren which was set off when the fire call came in.
"It was later everyone was issued with a pager. The difference with the pager meant the turnout system improved and responses were better.
"From the person who makes the call, down to us, became only seconds instead of minutes."
The Garrison Road station opened in 1955 and replaced the previous facility which has firefighters based at Southesk Street.
The change in perception of the service is clear to see from the remarks of Provost JC Cameron as he officially opened the £12,000 station, stating he fully appreciated that "some people condemn this building and regard it as a sheer waste of money".
But during the few months before the station opened there had been a record number of calls to the fire brigade.
There have been significant advances within the fire station over the decades with the biggest change in the type of road traffic collision equipment used, with firefighters responding to an increasing number of accidents.
Mr Ruickbie said the equipment has improved dramatically and is "just state-of-the-art compared to how it used to be".
He said: "The hydraulic rescue equipment is far superior which means people are released faster and more efficiently in road traffic collisions. Equipment in general is better and safer for a modern fire service."
Mr Ruickbie spent more than three decades with Tayside Fire Brigade, latterly as town station officer.
Formerly a joiner/workshop foreman with local builders WW Pert and a housing inspector with Angus Council, Mr Ruickbie answered the call for young recruits in 1967.