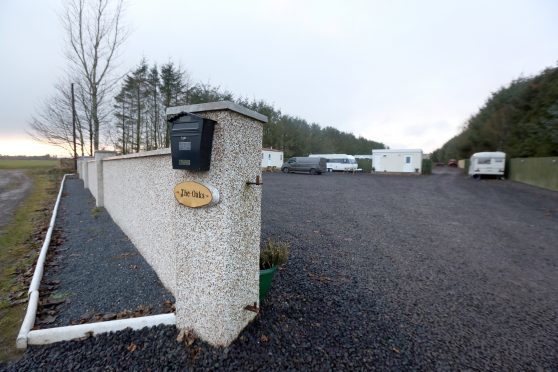 A long-running planning saga involving an Angus Travellers site has taken another twist with a new planning application being lodged.
Angus Council threatened enforcement action after discovering work on a site near Kirriemuir had started without planning permission in July 2016.
A retrospective planning application to allow a chalet and two touring caravans on the site 125 metres west of North Mains Croft in Logie was refused by the local authority in January. The plans also included erecting an amenity block, a boundary wall and car parking.
The decision was appealed and permission for the development was granted by the council's development management review committee in August, apparently bringing the matter to an end.
But just four months later, a fresh application to modify the development has been lodged by site owner John Townsley.
In the time the planning matter has been considered his daughter has married and now wants to live permanently on the site with her husband.
The new application is for permission for a chalet and a touring caravan as well as an amenity block and fencing.
Mr Townsley's agent Alan Seath said: "In the length of time it took for the Townsley family to get the planning permission, Mr Townsley's daughter got married.
"I know the fears before were that this was an encampment that could get larger but it is, purely and simply, for the extended family.
"Effectively there's just one more person is on the site – the daughter's husband.
"The pitch would be formed to take her and her husband in the principle caravan with space for the touring caravan allowing for travelling.
"It's similar to other sites throughout Scotland in the way it's been set up. The quality of the land is not prime land and the application is in accordance with the policy related to gypsy travellers.
"This is a father looking after his daughter. That's what he's trying to do – get accommodation for her."
Mr Seath criticised Angus Council for a "lack of progress" in meeting the demand of Travellers visiting the area.
He said the council-run St Christopher's site in Montrose was very good, which means it is "always full". He said the other site in Angus, at Balmuir Wood, which is operated by Dundee City Council, is poor.
"Addressing need and demand is very difficult," he said.
"I wouldn't want to live at the Balmuir site, I wouldn't want anyone to live there. St Christopher's is a good facility. That's why it's always full.
"Beyond that there are no private sites apart from Mr Townsley's. This scenario with his daughter demonstrates that need."