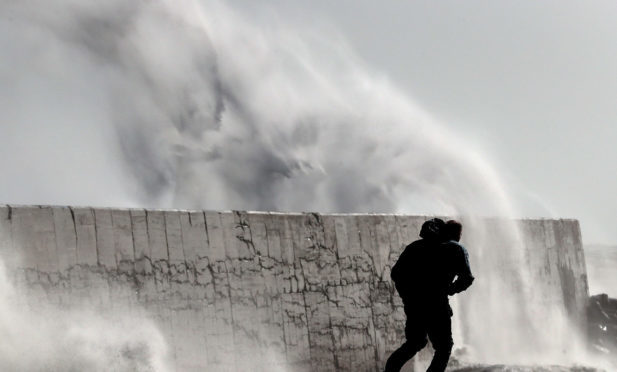 Forecasters have said winds of up to 70mph could batter Tayside and Fife, bringing a possible "danger to life".
The Met Office has placed a yellow warning of wind on the region effective from 6pm on Tuesday evening until 8am on Wednesday, with heavy rain also due to batter Scotland.
Forecasters said power cuts could take place with a chance of disruption to transport, and gusts of between 60mph and 70mph possible in Courier Country.
Winds of as high as 80mph are expected to batter the West Coast of Scotland and have not been ruled out in Tayside and Fife.
A statement on the Met Office's website warned of "injuries and danger to life" caused by "large waves and beach material" in the worst affected areas of Scotland.
Dundee and Perth is likely hit by the stormy weather, which is being caused by a "deep area of low pressure" moving into the country.
On Tuesday Met Office meteorologist Helen Roberts said: "We have a yellow warning for the strength of wind, it is valid between Tuesday evening through to Wednesday morning. The warning might change a little bit in the next 24 hours. We are certainly going to see a wet, windy spell.
"We have two weather systems, one pushes through from the West Coast to the east on Tuesday morning. It will reach the West Coast at about 8am or 9am in the morning and Edinburgh at about 11am. There will be rain and there is likely to be some hill snow.
"The system that follows on behind it is the one we are more cornered about and is the one we are warning about.
"There is a deep area of low pressure moving in. That will again bring a spell of heavy rain, again with some hill snow and heavy winds in the latter part of Tuesday into Wednesday morning."
She added the current Met Office warning may need to be updated on Tuesday, with the weather system expected to make its way even further north.
Ms Roberts said: "You will certainly see some strong winds. The warning might need to be nudged a bit further north. I think (Tayside and Fife) will be in the 60mph-70mph bracket.
"I think if you are travelling around, allow a little extra time for journeys and keep up to date with the latest forecasts."
The Met Office's chief forecaster said there is "still a lot of uncertainty over the exact track" of the weather system.