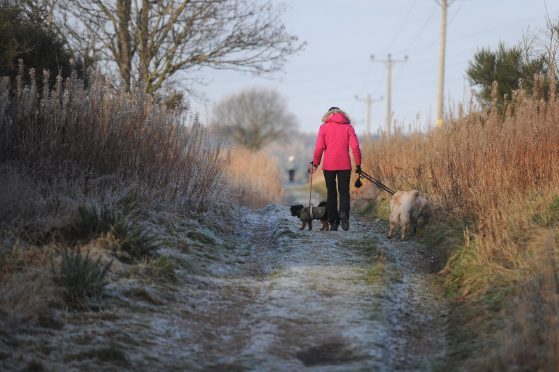 Plans have resurfaced for a 60-house development on the edge of Forfar, prompting a plea to protect a historic path running through it.
The near-seven-hectare site at Gowanbank is the subject of a fresh proposal of application notice (PAN) for what will be classed as a major development.
Bounded by Montrose Road to the north and Arbroath Road to the south, the zone sits west of the Lochhead landfill site and Lairds concrete plant, and was previously the subject of a permission in principle bid almost four years ago.
Stirling-based Ogilvie Homes has lodged the new PAN with Angus Council, with development standards committee councillors appraised of what officials have identified as potential key issues for the development of the land.
Those included the historic Rosie Road, a core path bisecting the site.
In his report to councillors, Stewart Ball, the council's head of housing, regulatory and protective services said six hectares of land at Gowanbank is currently allocated for a residential development of around 60 units.
"An appropriate vehicular access will require to be provided from Arbroath Road, or from both Montrose Road and Arbroath Road.
"No through route for vehicles will be permitted between Montrose Road and Arbroath Road, although emergency access should be provided.
"The public footpath which crosses the site from north east to south west and connects into the Forfar path network at those points will require to be taken into account and incorporated into the layout of the site."
He said any detailed proposal would also have to take into account the amenity of existing homes around the perimeter of the site.
"Developer contributions may be required from development proposals, including a contribution towards education infrastructure," added the official.
Open space provision, landscape impact and the design of the proposed homes were all highlighted in the report as likely to be among the key determining issues.
The committee noted the application and it will now progress through the planning process, with the results of a community consultation due to be presented to the committee in due course.
Montrose SNP councillor Bill Duff said he hoped the popularity and history of the path would be retained in the project.
"Can I make and appeal to the developer that the path is perhaps kept and not just asphalted over so that the nature of the Rosie Road can be retained," he said.