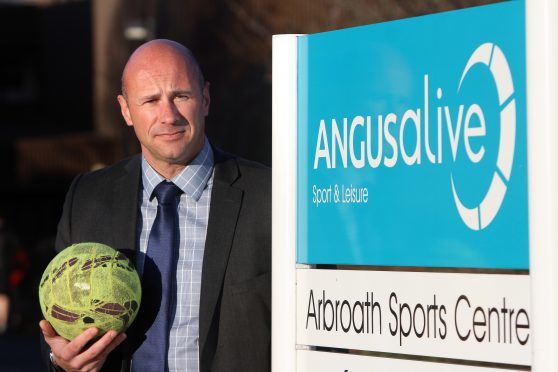 Angus leisure chiefs have endured a big financial hit from angry customers who voted with their feet over membership charge changes.
After bringing in new rules for the bActive membership which allows residents access to facilities across the district, it has emerged almost 150 people cancelled their subscription within weeks – at a cost of more than £8,500.
The changes mean five and seven-a-side football and basketball are no longer included in the monthly subscription.
Angus Alive, the local authority's arm-length trust which runs sports and culture facilities across the district, said the move would bring the area into line with many other Scottish council areas, improve efficiency and develop greater opportunity.
It has defended the bActive scheme as offering "excellent value".
A Freedom of Information request has  revealed in the month after bActive regulars were informed of the changes at the beginning of December, there were 147 membership cancellations.
Angus Alive said the monetary value linked to the memberships lost for the month of December was £8,549.
Arbroath East and Lunan Conservative councillor Derek Wann – one of the five-a-side regulars who cancelled his bActive membership – has described the financial hit as "very concerning" and called for action to be taken.
"That is a big drop and I think Angus Alive should be very concerned about it," said Mr Wann, who has now joined a private health club.
"I'd like to know what the normal fall-off rate it, but that seems to be a tremendous drop in just one month."
Mr Wann said he had asked council colleagues, Forfar Independent Colin Brown and Montrose SNP member Bill Duff, who represent the authority on the Angus Alive board, to raise the matter.
Arbroath's Cara Longmuir, who cancelled the joint membership she had with her father, had previously criticised Angus Alive for the "appalling" handling of the charging changes.
She has now been further angered after receiving a letter from the trust saying she is in arrears, despite having written confirmation from the trust's chief executive confirming she had exemption from the 30-day notice period which is applied to cancellations.
"The reason I cancelled my direct debit with my bank was in case of a mix up like this. I wonder how many other former members have received this letter?" she said.
A spokesperson for Angus Alive said: "Angus Alive is a not-for-profit organisation which means that every penny we make is reinvested back into the services we deliver.
"We are here to help guide our customers to select the best membership option for them, from a wide choice of great value and discounted memberships as well as pay-as-you-go options.
"Throughout the year, as our members review their usage of our facilities, personal priorities and our membership offers as described above, we will welcome new members, welcome back previous members and sometimes this will mean we also say goodbye to current members as customers evaluate how they access our facilities and activities."