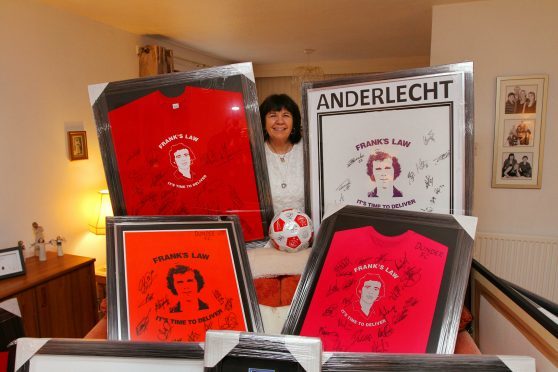 A treasure trove of signed Frank's Law shirts is going under the hammer for dementia research.
The auction will feature shirts signed by the likes of tennis ace Rafael Nadal, Manchester United legend Sir Alex Ferguson and Prince Albert of Monaco.
All the money raised will go to the Frank Kopel Foundation which is being launched by the Dundee United legend's widow Amanda.
The charity will raise money for vital dementia research, including an exploration into the link between heading the ball and brain damage, as well as raising awareness and offering support to former players with dementia.
Mrs Kopel, from Kirriemuir, said teams from Scotland, England and Europe, as well as former Manchester Utd players, had signed shirts.
Others happy to add their names to the cause included the Monaco football team along with Prince Albert, Rafa Nadal, Marcus Cooper Walz, Sir Alex Ferguson and Rio Ferdinand.
She said some had brought back bittersweet memories.
"When I received the RSC Anderlecht signed T-shirt it reminded me of the time Frankie and I watched him scoring the goal he scored in the UEFA Cup in October 1979," she said.
"We had never been able to find a video of the goal until some American friends came over to visit us in 2005 and it was purely by chance that we first saw it.
"The sad thing was, that as he deteriorated, he forgot he had ever scored that goal and when I played it back to him, he would ask who was the player that scored that goal?"
A framed cricket bat signed by England cricketers and a framed picture of all the matchday programmes from the year Dundee United won the league in 1983 will also be auctioned later this year.
Mrs Kopel said she was grateful to Dawn Astle, Dr Willie Stewart, Sir Pete Downes, Mike Ramsay, Dr Andy Wilmshurst and Chris Nowinski who have agreed to become patrons of the foundation.
She also paid tribute to friends who have paid for the shirts to be framed and to the teams at Elvie Framing in Dundee and the Frame Game in Edinburgh for their work.
"There are so many people that I would like to thank personally for their wonderful support since Frankie and I began the Frank's Law campaign in 2013 but the list would be never ending," she added.
"Myself and my family want to thank the Frank's Law army from the bottom of our hearts."
The Frank's Law campaign, which is backed by The Courier, was fought in recognition of Mr Kopel, the Dundee United footballer who died in 2014.
His family struggled to pay for his care because he was under 65 for most of his illness.
Mr Kopel died shortly after becoming entitled to free care.
In September, Nicola Sturgeon said the Scottish Government would bring in Frank's Law and extend free personal care to people under the age of 65 with degenerative conditions.
Officials hope to have it in place in 2019.