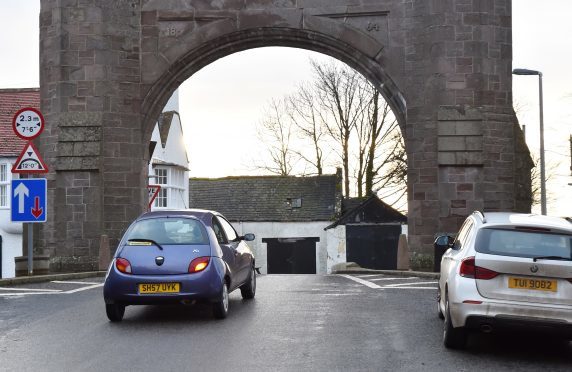 Road chiefs are going back to the drawing board over the troubled Royal Arch at Fettercairn after its latest weather-related closure.
Local residents were forced to make a detour late last week when Aberdeenshire Council workmen moved in to repair the majestic entrance after it was damaged by  strong winds.
It has emerged the arch will again be closed to traffic in the spring to allow further repair work to be carried out.
The council announced an emergency closure of the B966  after one of its cast iron finials was damaged.
The road was closed to traffic and a diversion put in place.
At the time an Aberdeenshire Council spokesman said: "We closed the road to assess damage to one of the structure's cast iron finials caused by high winds.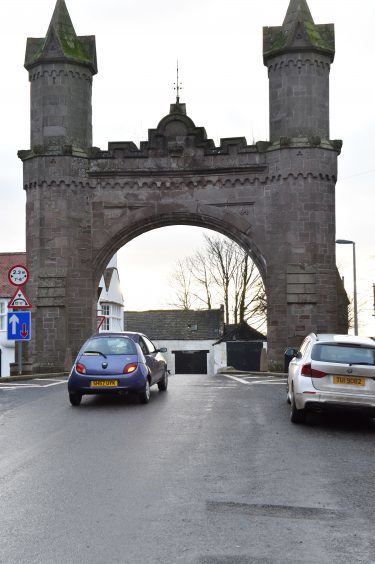 "The area has been made safe and all debris has been cleared.
"However, we will need to carry out more extensive inspections and re-pointing work to the masonry at the top of the arch. It is hoped this work will be completed in the spring."
Members of Mearns Community Council were due to meet on Monday night to discuss the latest in an ongoing saga of issues with the archway.
Aberdeenshire Council had carried out radical alterations on the B966 to realign the road and install narrowing devices to prevent the majestic structure from being damaged.
The junction to the south of the arch was reconfigured with kerbing installed to narrow the junction and prevent heavy goods vehicles from passing under it.
However, local businesses say the traffic calming measures are putting their livelihoods at risk with a decline in revenue being described as "catastrophic".
Following continued complaints the council drew up a revised road layout design to its traffic calming measures.
Road users have continued to face issues with vehicles often incurring severe damage or becoming stuck due to the layout of the road.
Motorists have also sought an alternative route through the Mearns to avoid using the B966 altogether, rather than risk damage to their vehicles by passing under the Royal Arch.
One local resident branded the problems "a nightmare".
It is expected that further alterations to the road layout will be carried out at a later date following approval from the council area committee on the best way forward, taking account feedback from a public session. Proposals are likely to be heard at the Kincardine and Mearns Area committee in March.