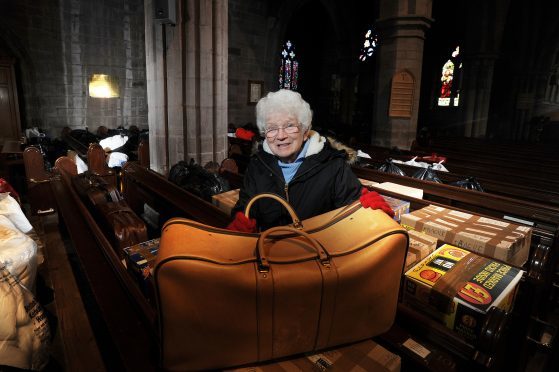 A dedicated Brechin charity champion is appealing to Angus residents to clear out unwanted household and garden items to help Syrian refugees become more self sufficient.
Mrs Irene Gillies runs regular collections through Brechin Cathedral, with the deadline for her latest project being midday on Friday.
The gathered items are sent to Edinburgh Direct Aid where they are sorted and then delivered to a large refugee camp in the Lebanon, between Syria and Libya.
Unwanted goods from books and blankets to shoes and shampoo all help to bring some dignity to those who need it most.
Mrs Gillies said: "We are looking for any item needed in a house, adults and children's clothes, although not white baby clothes as there a Syrian superstition that white means death."
Donations of good quality blankets  – not duvets – pots, pans, cutlery, gardening tools, men and women's clothes and wellies are all being sought."
The appeal is now stretching out to include items which charity chiefs hope will transform the future for refugee families.
Irene continued: "We are also looking for sewing machines as men and women are now making their own clothes in a small cottage industry in the refugee camps.
"Household tools like screw drivers are also being used to teach joinery which helps keeps those in the camps occupied and stimulated.
"This ensures they are not just sitting around the camp all day getting despondent, thinking there is no way out.
"Jotters, pencils and rubbers are also collected, along with books, which help the children learn to speak English.
"The women also need sanitary products, but not tampons, and they always need paracetamol."
In the past Mrs Gillies has been overwhelmed by the support for the collections, both from the people of Brechin and those living further afield.
St Margaret's Church in Forfar is a regular supporter with donations also coming in from other Angus towns and the people of Laurencekirk.
She added: "Because the situation in Syria is so desperate, the whole community has got involved."
Edinburgh Direct Aid has access to containers used to transport the items either by sea or air, and these in turn are used as houses in the camp.
Anyone with good quality items to donate can drop them off daily this week from 10 am to 4 pm in time for them to be packed and taken to Edinburgh by Phil Jamieson of Brechin.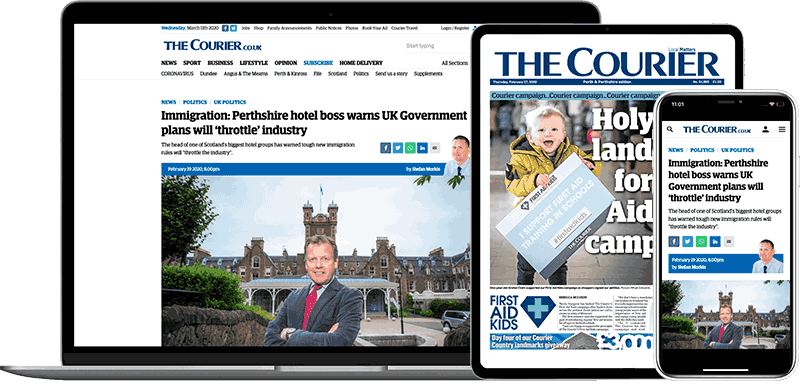 Help support quality local journalism … become a digital subscriber to The Courier
For as little as £5.99 a month you can access all of our content, including Premium articles.
Subscribe