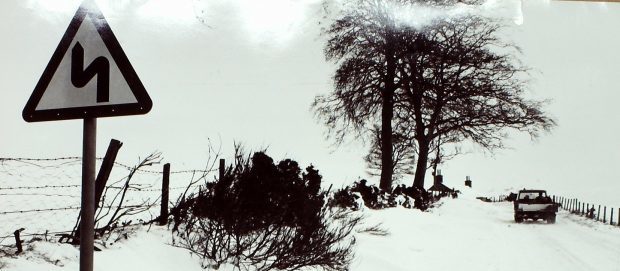 If you think the recent cold snap has been bad, it is as nothing compared to the scenes in Courier Country 35 years ago.
It was the winter storm which closed schools, ripped down trees, uprooted sheds, pulled down lampposts, grounded fishing fleets, cut off power supplies and made travelling "a liability".
Many roads in Perth were like ice rinks while north Angus took a heavy pummelling with practically every road being blocked by fallen trees.
The high winds even blew over a 170 tonne crane at the Mossmorran chemical plant in Fife.
Pupils were also sent home from Tayside schools when the devastating winter storm – one of the worst to hit the region – struck on January 31 1983.
The gales caused damage to Whitfield High in Dundee, Menmuir and Glenprosen in Angus, and several schools in Perthshire.
Car owners around Whitfield reported falling debris had broken their windscreens.
In Falkland Crescent a garage roof was lifted off its supports and crashed into the side of a neighbouring house.
The gable end of a house in Mollison Street was caught in a gust and chunks of masonry fell onto the road.
Trees toppled onto power cables in the Ashludie area of the city, causing outages, and, on the Brechin bypass, three vans were overturned by the high winds.
In Montrose one lamppost was severed at the base in the gale and crashed on to the roof of a Ford Escort, the owner just having left it.
Another car badly damaged was that belonging to Dundee District councillor Helen Wright when a large branch from a tree snapped in the wind.
Three trees also came down on the Montrose-Brechin road while another was felled at the Farnell road junction with the Brechin-Arbroath road.
The Hillside-Northwater bridge and Montrose-Marykirk roads were also partly blocked as was the road between Marykirk and Laurencekirk while the fishing fleet was confined to port in Arbroath.
Heavy snowstorms and high winds also hit Perthshire resulting in conditions which made roads "treacherous" and travelling was described as "a liability".
Police reported many roads were like "ice rinks" and cars were reported as "skidding off the road and all over the place".
On the Braco side of Muthill, a van driver had a lucky escape when his vehicle plunged 20 feet over the parapet of Bishop's Bridge into the Machany Water.
The driver failed to negotiate a sharp bend and went over the bridge with his van but survived the ducking in the icy cold water.
Former Dundee City archivist Iain Flett said: "The storm of 1983 was among the worst to hit Tayside.
"But it was nothing compared to the Tay Bridge Disaster when a perfect storm finally nudged the cracked cast iron fittings under the high girders to part company.
"Meanwhile, during the Great Freeze in 1947, a passenger train was snowed-in for over a week near Auchterhouse."