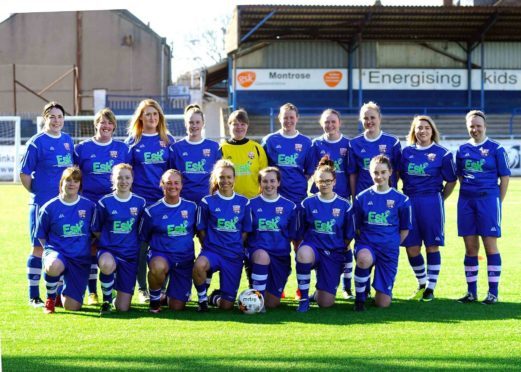 Women's football's governing body has refused an appeal from Montrose Ladies FC to switch leagues — despite being warned the team could fold if they don't.
Montrose Ladies FC played in Division 2 East last season but this year they were put in Division 2 North without notice after the leagues were reconfigured based on the number of teams entering.
Manager Eilidh Reid has been left extremely disappointed after the Perform and Win Committee stuck to its guns and the team will now make the long journey to Caithness on Sunday for the Division 2 North season opener.
She said: "With Montrose LFC placed in the Division 2 North there is a very realistic chance that the team may fold due to the amount of travelling and reluctance of players to travel the distances involved.
"We feel that asking a Division 2 club to travel a combined total of over 10 hours to play a single game of football is completely unacceptable.
"The financial costs and implications that this sort of travel will incur are…totally unreasonable for a club at the lowest level of female senior football.
"As Montrose is located in the SFA East Region, we feel it is necessary that the club take part in the East league rather than being placed in a league region that we are not part of.
"Having looked into the travel implications in greater detail, we have noticed that it is in fact easier, and quicker for a number of other clubs based in the Perth and Dundee area to get to a number of places in the North league.
"It would take a club from Edinburgh the same amount of time to travel to Thurso, as it would for Montrose to make the same journey, to play against Caithness for example."
Montrose Ladies are going into only their second year as a club, having had, a relatively strong first year.
The club was established to provide a complete pathway to give girls from Montrose Youth an opportunity to progress on to senior football but the manager has warned that this opportunity "may now be taken away due to highly unreasonable travel requirements".
The club are also unhappy that there was no word of warning or hint given of a switch prior to fixtures being released.
The Perform and Win Committee said the majority view is that, in the best interests of all teams, the existing structure of the leagues should remain in place.
A spokeswoman said: "Whilst we appreciate that the geography in the north is difficult, we need to draw the line somewhere based on the number of clubs and where they are based.
"A smaller North League of seven teams is not viable as there is always the risk of teams folding throughout the season.
"If this happens in a league of seven, then the six clubs remaining would only play 15 games a season.
"Teams in the North League already play less games than those in other leagues and all clubs play the same affiliation fee so this was felt to be unfair
"If we created three leagues from the existing North and East Leagues (potentially a north, east and south east) this would have created a problem with promotion as only four promotion places are available for five leagues."