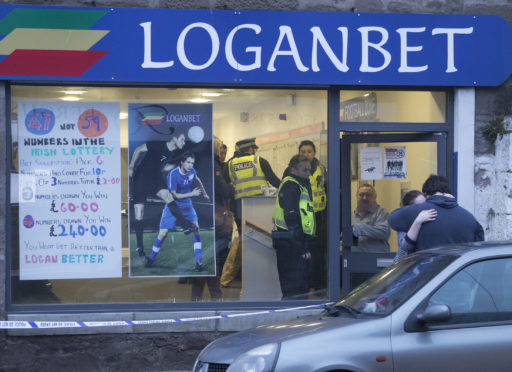 Police are hunting a "smiling" would-be robber who pulled a knife on shocked staff in an attempt to raid a Brechin bookies.
With his face covered by a Rangers FC scarf and wearing yellow-tinted spectacles, the man fled empty-handed through a side door of the Loganbet shop on the town's Clerk Street after the failed mid-afternoon robbery bid on Friday.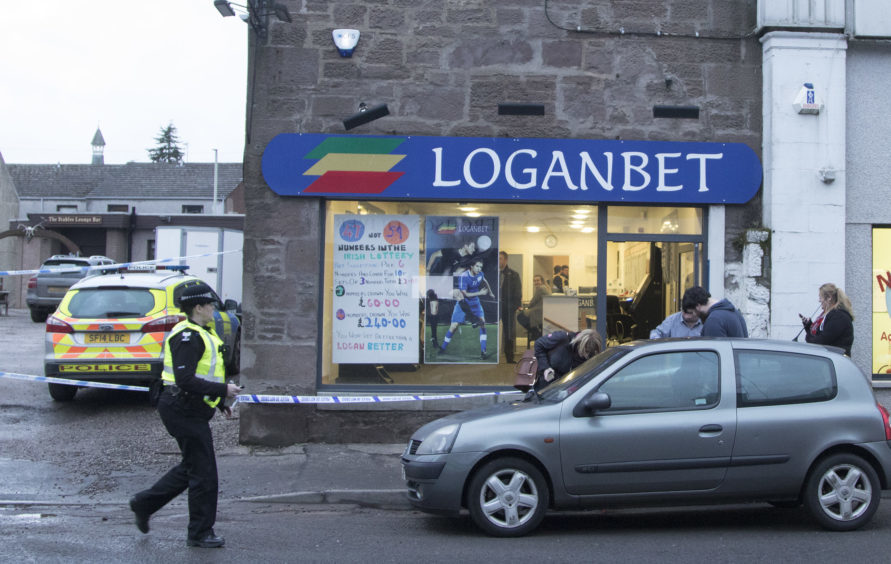 Police have now appealed for the public's help to trace the culprit as soon as possible.
Last night, the shop manager recalled his shock when he realised the man, who he had thought was just another customer, pulled a blade.
The incident happened just after 3pm when a number of customers were in the premises.
Shop manager Eddie Nutten and a female colleague were on duty and although badly shaken by the incident they were unhurt.
"He was hanging about for a few minutes and picked up a coupon," said 62-year old Mr Nutten, who has managed the shop for the past six years.
"He came up to the counter – I thought he was just going to put on a coupon.
"I saw a smile and he said 'give me your money'. I thought he was joking and then he pulled the knife out," he added.
"He was wearing the scarf but pulled it down to ask for the money. I told him to get out and he didn't wait around.
"We're okay, but I'm still pretty shaky," he said.
Police rushed to the betting shop and scenes of crime officers carried out a thorough sweep of the premises in the search for clues.
At the scene, Detective Sergeant Mark Lamont appealed for information from anyone who may have been in the vicinity at the time.
"The man entered the shop and presented a knife at staff," he said.
"He demanded money but did not get any and then made off out the side of the shop in a direction unknown."
Police say the man was around 5ft 11ins and was wearing a Rangers scarf over his face.
He was also wearing grey skinny-style trousers and dark shoes, with a dark-coloured tammy and yellow-tinted spectacles.
DS Lamont added: "There were a number of customers in the premises at the time and we have spoken to them, but we are appealing for anyone in the area who may have seen a man fitting this description to get in touch as soon as possible.
"They should contact Police Scotland on 101, or can provide information anonymously through Crimestoppers on 0800 555 111."