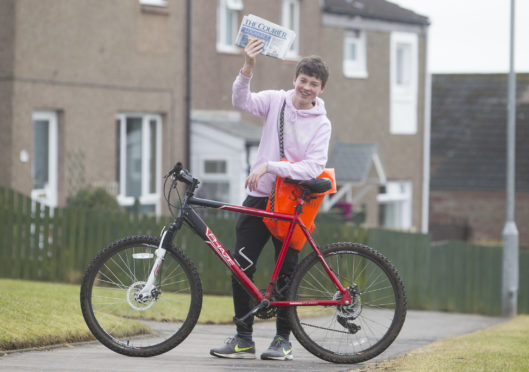 An Angus paper boy has been hailed a hero for his response to the sight of an elderly man lying motionless on the floor of his kitchen in a weekend drama.
But modest Kirriemuir 14-year-old Connor Kennedy has shrugged off his actions as "no big deal" after keeping his cool during his Saturday morning round to put a 999 response in motion and comfort the man in his 80s until the arrival of emergency help.
Thankfully the householder did not require hospital treatment, having struggled to get up after suffering a fall, but town First Responder Claire McIntosh has said the teenager's textbook response could have been the difference between life and death in different circumstances.
Connor's reaction to the situation has been widely praised on the Oor Kirrie Facebook page, but the Webster's High School pupil said he had simply put Scout first aid training into place, adding : "I would have done it for anyone".
And he revealed that his love for his late grandfather had been the driving force behind doing what he could for the old man.
The teenager was delivering The Courier to the pensioner's home in Kirrie when he spotted the man, prone on his kitchen floor.
"I saw the top half of his head and shoulders and thought that's not right." said Connor, who tried both the front and back door of the house but found them locked.
"I kind of knew what to do, I phoned my boss, Ayaz Gul, at the shop and told him what had happened and he phoned 999.
"I've done first aid at the Scouts and I went through the stages of what we had been taught. I started banging on the kitchen window and could hear him speaking to me so I knew he was breathing.
"I just kept speaking to him until the ambulance could arrive," added the 2nd Kirrie Scout.
The incident led to Kirriemuir First Responder Claire McIntosh also being called out and the teenager was able to flag down her and paramedics who arrived on scene almost simultaneously, and after checking the pensioner over it emerged he was okay.
Claire said: "Connor was concerned something serious had happened such as a cardiac arrest and in situations like that time is what is important.
"We let Connor on his way after we arrived, but he did the right thing and when youngsters sometimes get a bad press I think it is great to see a young lad like this doing what he did."
Third-year pupil Connor was modest about the massive social media response in praise of his weekend actions, with some 500 likes for a posting about the teenager's role.
"It's no big deal to me," he said.
"I'd do it for anyone if I thought they needed help.
"When I saw him I didn't know what had happened.
"I knew something wasn't right and because I had a granddad who is no longer with is I knew I had to do something."
His mum, Joyce, said she was pleased to hear there was a positive outcome to the incident and knew her son would react in the way he did.
"I am so proud of him, but he's the type of person who would do that for anyone," she explained.
"It's great to see what people have said on Facebook, I was beaming when I saw that."