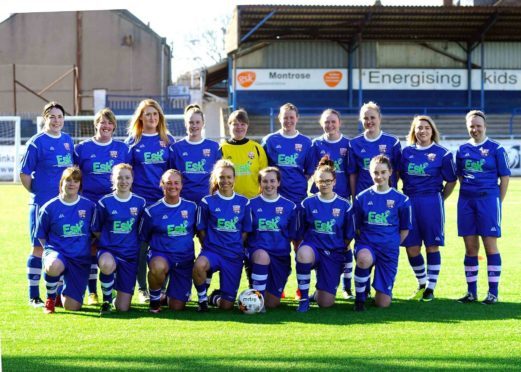 Montrose Ladies FC started their campaign in a new league on Sunday with a gruelling 450-mile round trip to Thurso.
The 12-strong team had a 7 am start in what was to prove a memorable day for the club as they notched up a resounding 19-0 victory over rivals Caithness Ladies.
Manager Eilidh Reid credits the victory to the determination of her squad – which was left bitterly disappointed when the Scottish women's football's governing body refused their appeal to allow them to switch leagues.
Last season they played in Division 2 East but were moved to Division2 North without notice after the leagues were reconfigured.
Despite their appeal, the Perform and Win committee stuck to its guns forcing the ladies to endure a 15-hour day.
Putting their disappointment behind them the ladies travelled north in three cars with only a little over an hour to prepare for their game.
Eilidh said: "This was the first time we had travelled that far. It was hard for a lot of them, they struggled a little bit. We didn't get back to Montrose until about 10.30 at night. It was gruelling. "
She praised the team performance in what was a game to remember.
"It was an easy win. Caithness is a brand new team. We didn't know what they would be like as it was their first game.
"It was a long day for us but the result shows how dedicated the team is, they just got on with it."
Eilidh had shown the committee's decision a red card last week, warning there was realistic chance the Montrose team may fold due to the amount of travelling and the reluctance of players to travel the distances involved.
She said: "We may still fold if we can't get the cars or a bus. We have a few fund-raising ideas but need to see how that goes."