A sozzled partygoer who literally hit the roof after becoming a target for practical jokers at a pub birthday bash has been told to behave by a sheriff – along with the wife who waded in to defend him.
Lee and Nicola Smith had been set for a night of revelry at the Black Abbot in Montrose last July for a pal's 30th party and Forfar Sheriff Court heard the couple even arrived early for the gathering.
But that proved to be Mr Smith's undoing after he fell asleep at the table while the celebrations were still going strong and fellow guests took the chance to put 'decorations' including sausage rolls on to the 41-year-old.
He lost the plot when he woke up and the court heard how the atmosphere turned sour when the couple both got involved in a fracas that has seen them banned from the Coronation Way premises.
Solicitor Nick Markowski said the couple were with family and friends at the party and the accused arrived around 7pm.
"Mr Smith had far too much to drink and fell asleep. They put a jacket over him, but then things went a bit further and they started putting party food, such as sausage rolls, on him.
"He woke up and wasn't best pleased, and that led to a confrontation," added Mr Markowski.
The court heard staff took one customer behind the bar of the pub to protect him from Smith, who admitted shouting and swearing and challenging others to fight.
He then picked up a chair and went on to the dancefloor, striking the ceiling of the premises and damaging it.
Mr Markowski added: "Other parties got involved and it all got out of hand very quickly."
Mr Smith ended up on the ground and his wife then joined in the melee, punching a man on the head once.
The solicitor added: "The have been banned from the Black Abbot as a result, but remain friendly with the people involved.
"Mr Smith is apologetic for his behaviour, after a significant gap in his record.
"His wife's involvement was very limited and was out of a misguided sense of loyalty to her husband, fuelled by alcohol," he said.
Sheriff Jillian Martin-Brown told the couple, of Glenogil Street, Montrose: "I am prepared to defer sentence for six months so you can both be of good behaviour and prove that this was just a blip."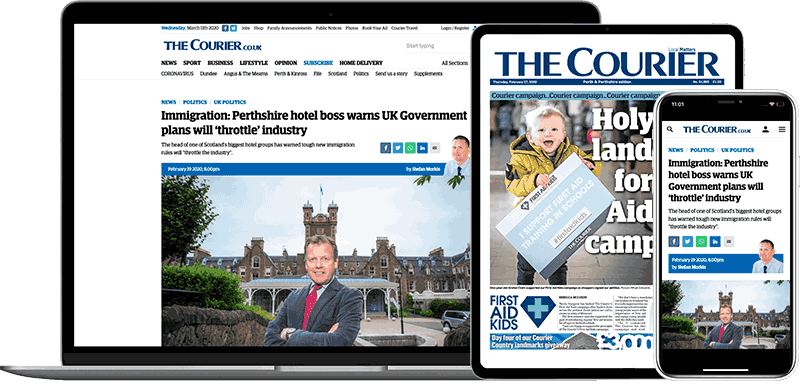 Help support quality local journalism … become a digital subscriber to The Courier
For as little as £5.99 a month you can access all of our content, including Premium articles.
Subscribe