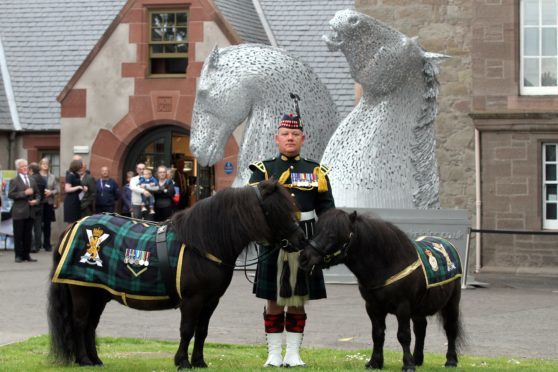 It's been the only talk on chapped lips for days.
The beast from the east brought the country to a standstill, caused social media meltdown and left hardworking colleagues trudging through the white hell of snowmaggedon, encountering unsung heroes and dodgy drivers in equal measure along the blizzard-hit way.
So we'll swerve that and focus instead on a lower level of horsepower than that which led many to grief in a blur of zero grip.
As the first flakes began to blow in, a sad tale slipped by virtually unnoticed — the death, at the age of 30, of Cruachan III, the Shetland pony which became the Royal Regiment of Scotland's first mascot on its formation a dozen years ago.
The wee character met the Queen in the stately surroundings of Balmoral, served on operational tours and had been in the clover of retirement at barracks in Edinburgh before vets took the decision to end the misery of his painful arthritis.
Of the many saddened by the loss – from squaddie to Sergeant Major and above – none felt it more keenly than Corporal Mark Wilkinson, the Dundee lad I had the privilege of meeting in Forfar in his role as the Pony Major of 3 SCOTS.
Preparing his equine companion to lead a Black Watch homecoming parade before the Duke of Rothesay, the bond between man and mascot I briefly witnessed in the grounds of the old Chapelpark primary that day makes it easy to understand Cpl Wilkinson's farewell of few words: "Goodnight Wee Man. Rest easy".
At the time of our 2012 encounter, Cruchan III was preparing to trot off gently into retirement, his successor Cruachan IV already being groomed for the important role.
According to Cpl Wilkinson, the "wee man" demonstrated to his successor a "calming influence, stern demeanour and occasional nip" – a trait passed down, as Prince Harry found out when the military mascot tried a friendly wee nibble of Royal fingers in Edinburgh a couple of weeks ago.
So, farewell Cruachan — a wee beastie from the eastie who will also live long in the memory for all the right reasons.