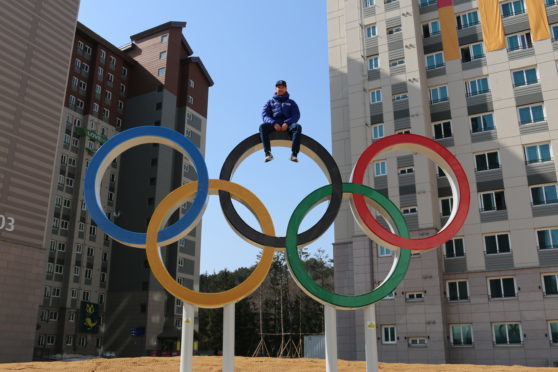 An Angus man has played a pivotal role in securing Team GB's best ever medal haul at a winter Olympic Games.
Jamie Matthew, 30, from Kirriemuir, the GB park and pipe ski coach, returned home victorious after his teen protégé Izzy Atkin picked up Britain's first ever Olympic skiing medal at the exhilarating competition in PyeongChang, Korea.
The former Webster's High School pupil was forced to retire from competitive skiing after shattering both heels in an accident.
He was immediately offered a coaching post and has never looked back.
Jamie had competed in ski slopestyle and half pipe disciplines at European and worldwide level before his injury, but at that time they were not Olympic sports.
He said: "I had my accident in February 2012 which ultimately forced my retirement from competitive skiing. I started working as a British team coach in September 2012.
"I competed in slopestyle and halfpipe which became accepted Olympic disciplines in 2012 with Sochi 2014 being their first inclusion in a games.
"When I competed prior to this, there were only invitational style competitions where a brand or company would host competitions and invite skiers to compete.
"I won some European level competitions but no official championships."
Jamie has been instrumental in nurturing the talent of Izzy Atkin and  James Woods.
James narrowly missed out on a medal in the men's ski slopestyle at last month's Olympic Games  – he was lying in bronze medal position with five skiers remaining in the final run, but was overtaken to finish in fourth position.
However, it was 19-year-old Izzy who stole the nation's heart, winning a historic bronze medal in the women's ski slopestyle event to claim Great Britain's first ever Winter Olympics skiing medal.
As the youngest member of the British team, she soared to third place at the Phoenix Snow Park, much to the delight of her coach and the rest of team GB – which picked up a total of one gold and four bronze medals.
Jamie said: "This was the most successful Winter Games for team GB and for skiing overall so it was a good one to be part of.
"Funding has been a big factor in our success.
"Our competitors were not from rich backgrounds, they are all from working class backgrounds but were determined to seek a better life, so UK Sport funding has played a bit part in their success.
"That was a huge driving factor for them.
"The Games at Korea were amazing. We were there for 22 days. It was my first full Olympic Games. I had done a Youth Olympic Games two years ago which were really good and a precursor for us to know what to expect in Korea.
"It was very cold, minus 25 to minus 30 degrees.
"It was a good success for the team and even more memorable in terms of the games being in Korea – they did a very good job running it.
"The infrastructure was incredible."
Jamie donates seven to eight months of the year coaching the squad abroad with the remainder training in the UK.
He was introduced to skiing as a young boy by his parents, Ewen and Karen.
He said: "Both are enthusiastic skiers.  Me and my two brothers were up Glenshee skiing with them as soon as we could walk."