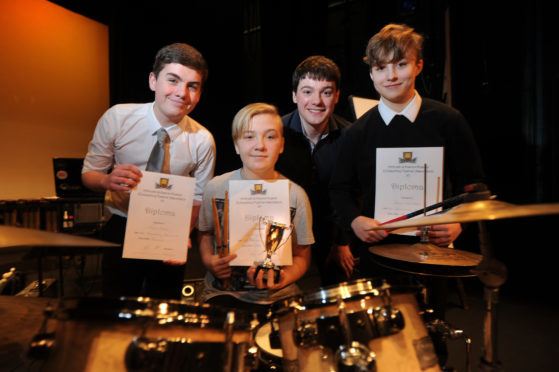 The 86th Arbroath and District Musical Festival defied the weather to get off on a fine footing across a range of classes yesterday.
Despite some late call-offs due to the impact of the wintry blast which paralysed much of rural Angus and left youngsters short of last-minute practice time, the standard of competition in the early sessions was praised by the judges.
Organisers said they were also delighted to welcome new participants alongside schools which have been first-day festival stalwarts.
Monday's programme included the return, after an absence of a decade, of the Excerpt from a Play class, in which a young trio from Dundee's Braeview Academy took the Arbroath Musical Society award with their extract from Arthur Miller's The Crucible.
Among the adjudicators for the 2018 event are Margaret Murray McLeod, who trained at the Royal Academy of Music in London and is the European Piano Teachers' Association regional organiser for the east of Scotland; Glasgow-based freelance percussionist Glynn Forrest, who works with the major Scottish orchestras, and Aberdeen-born Ian Watt, who currently teaches classical guitar at the Royal Conservatoire of Scotland and has performed as far afield as the USA, Brazil and China.
Also judging are Royal Conservatoire graduate Heather Nicoll, who was appointed head of woodwind there in 2007; Conservatore colleague Jean Sangster, an artistic association in voice at Dundee Rep and a native of Arbroath, and John Boax, who has worked with the National Youth Brass Band of Scotland for more than three decades.
Competitive classes will continue in a busy schedule throughout this week, culminating in the final concert in the Webster Theatre on Friday evening.
Results: Snare drum elementary –  1 Rachel Johnston, Brechin High School, 87; 2 Ewan Noble, Carnoustie High School, 86; 3 Jack Kelly, Forfar Academy, 85. Timpani elementary – 1 Ewan Noble, 86; 2 Kinga Wysocka, Brechin High School, 85; 3 Catie Mathieson, Arbroath High School, 84. Tuned percussion elementary – 1 Catie Mathieson, 88; 2 Ewan Noble, 86; 3 Rachel Johnston, Brechin High School, 85. Drum kit elementary – 1 Kinga Wysocka, 89; 2 Ewan Noble, 88; 3 Rachel Johnston, 87. Snare drum intermediate – 1 Ami Conchie, Carnoustie  High School, 85; 2 Nairn Pryde, Arbroath High School, 83; 3 Samuel Phillips, Webster's High School, 82.
Piano classes. Play with your teacher – Festival certificates for Layla Smiles, Harlow Watson, Carly Geddes, all Carnoustie and Milly Scott, Broughty Ferry. Solo 9 and under 11 – 1 Monica Cecil, Monifieth, 176; 2 Alice Gall, Monifeith, 174; 3 Laura Martin, Monifieth, 165. Solo under 9 – 1 Aidan McFarlane, Carnoustie, 176; 2 Clara Christie, Carnoustie, 175; 3 Sarah De Villiers, Barnhill, 170. Duet under 10 – Kayla Reid/Emily Scott, Monifieth, 170. Duet 10 and under 14 – 1 Robbie McBean/Alice Gall, Broughty Ferry/Monifieth, 177; 2 Amy Finnegan/Anna Robertson, Monifieth, 175; 3 Laura Martin/Niamh Perry, Monifieth/Broughty Ferry, 171. Duet 14 and under 18 -1 Alisha Gracie/Anna Hunter, Broughty Ferry/Carnoustie, 176; 2 Keira MacArthur/Maria Clark, Broughty Ferry/Carnoustie, 175.
Solo verse speaking 8 and under 10 – Maisy Duncan, Rosemount Primary School, 88. Burns solo verse under 12 – Robbie Johnston-Hyslop, Grange Primary School, 88. Burns solo verse over 12 – 1 Andromeda Gibb, Braeview Academy, 88; 2 Phoenix Gibb, Braeview Academy, 85; 3 Holly Stewart, Braeview Academy, 83. Solo Scottish verse speaking 10 and under 12 – Robbie Johnston-Hyslop, 85. Excerpt from a play – Hannah Gillespie, Jakub Piorko, T J Douglas Welsh, Braeview Academy, 88.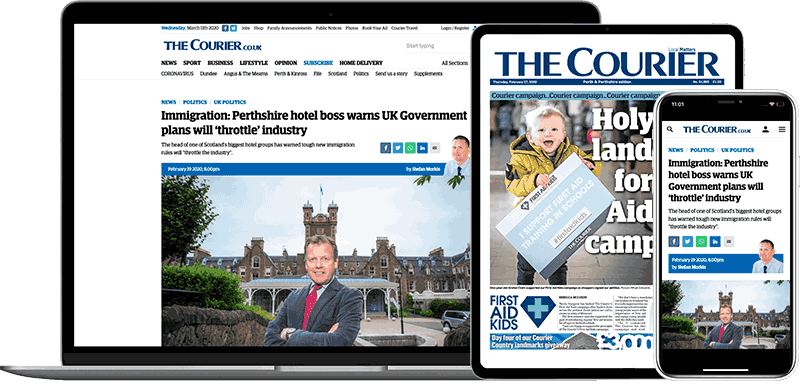 Help support quality local journalism … become a digital subscriber to The Courier
For as little as £5.99 a month you can access all of our content, including Premium articles.
Subscribe