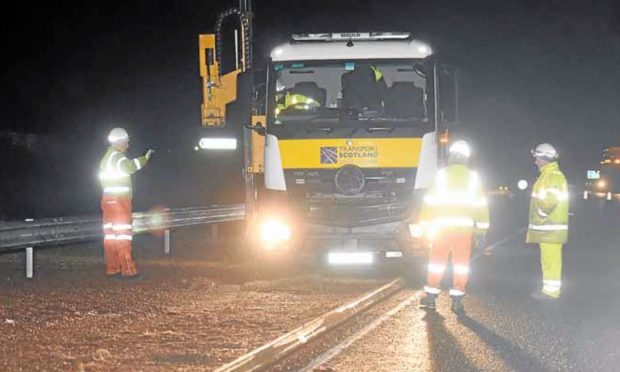 A behemoth A90 'Potzilla' could leave drivers with a five-figure repair bill headache.
Dozens of drivers suffered punctured tyres and buckled alloys on Monday night on the Aberdeen to Dundee road near Laurencekirk.
Road engineers carried out emergency repairs after motorists were forced off the road after falling foul of the monster pothole which partially closed the carriageway.
A line of vehicles were piled up damaged at the side of the road with reports of cars swerving dangerously in order to avoid their vehicles coming to harm.
A spokesperson for BEAR Scotland, said: "We were notified of a pothole on Monday on the A90, north of Laurenceirk, following which we attended and completed a temporary repair to make the road safe.
"We will inspect the area and progress the permanent repair works and the temporary repair will be monitored until this has been completed.
"The recent cold and wet winter weather can have a serious impact on road surfaces, leading to the rapid development of potholes.
"This winter has already seen an increase in road surface deterioration throughout the network, and we are working to repair any defects as quickly as possible.
"All claims received are assessed according to industry guidelines and processed accordingly on a case by case basis."
North East region Scottish Conservative MSP Liam Kerr said: "It's a testament to the army of road crews and gritter drivers that the trunk roads stayed open through the red weather warning.
"It has caused a massive financial headache because of losses to the economy, people staying home, and lost productivity."
Heather Hope from Laurencekirk said she counted 21 cars all on the verge and in the entrance to the farm track.
She said: "They were all trying to squeeze in there like a jigsaw puzzle.
"A lot of them had flat tyres or broken alloys, and we have to be talking about thousands and thousands of pounds worth of repairs now being in order."
Social media users called for answers from road planners, with some suggesting compensation should be paid out.
Allan Hope said: "You can hardly call it a pothole.
"It's a sinkhole at the very least.
"That's like saying that Mount Everest is a large molehill."
Recovery driver Kevin Godsman said about 15 to 20 cars were stopped in two different openings at the side of the A90 with a lot of blow outs at once.
He said: "I'm sure a few of the folk just got their spare on and got back on the road."