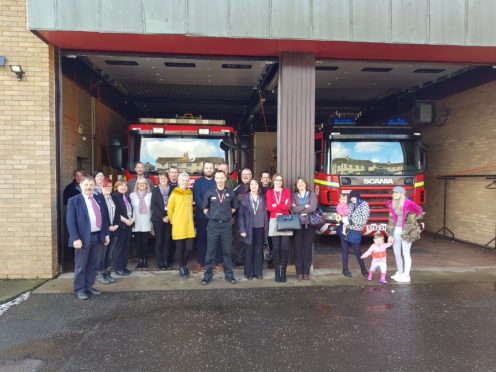 A new project aiming to tackle the "significantly worrying" scourge of poverty in Angus has been launched in Brechin.
The scheme brings together, Voluntary Action Angus, Home-Start Angus, Citizen Advice Bureau, Angus Women's Aid and Tayside Council on Alcohol in a new united front against the issue.
Project leaders said parents across the county were struggling to feed their children and heat their homes, while women were being forced to remain in the grip of abusive partners because they could not afford to flee.
Manager of Home-Start Angus Julie Thomson said the project, supported by Aspiring Scotland European funding, aimed to empower local people to confront the challenges facing their own communities.
"Tackling inequalities and poverty is a key part of our partnership working in Angus," she said.
"There is a clear link and much evidence between poverty in relation to ill health, attainment and life opportunities."
Ms Thomson said Home-Start Angus was dealing with the effects of poverty across the region on a regular basis and she hoped closer co-operation with colleagues in the new partnership would help boost its efforts.
"Undoubtedly the impact of poverty in children's health and the health of parents is a significant challenge," she added.
"Increasingly our volunteers and staff work with families who really struggle for food and to meet the costs of heating their homes."
Kathy Anderson, manager of the Citizens Advice Bureau, said the range of issues facing people affected by poverty were "massive and significantly worrying in Angus".
She said: "CAB, its staff and volunteers, are committed to this project and will work to ensure people have support to access benefit entitlement and equally tackle fuel poverty issues."
Chief executive of Angus Women's Aid Anne Roberson Brown said the project was an excellent example of how joint work could be used to tackle a major issue.
She said poverty, "further compounded by recent benefit changes", was forcing women to either return to or remain with abusive partners.
Brechin Fire Station will be used as the project's base.
Fire service spokesman Roy Dunsire – said it reinforced "our commitment to working in partnership to tackle poverty and strengthen community resilience".
Project coordinator Kirsty Maclean, of Voluntary Action Angus, urged local people, voluntary organisations and community groups to help support the work of the project.
To get involved, contact kirsty@voluntaryactionangus.org.uk