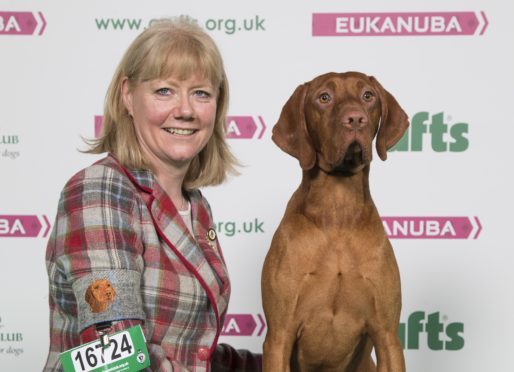 A Forfar dog breeder hit the big time at Crufts when her Hungarian Vizsla, Finn secured a prestigious prize.
Two-year-old Finn put his best paw forward at Birmingham's NEC, suitably impressing judges to scoop Best of Breed.
That made it a Crufts to remember for his 46-year-old owner Donna Clubb, who joined thousands of other canine lovers in descending on the West Midlands for 127th edition of the world's largest dog show.
Customer service manager Donna, who has appeared at Crufts for more than 30 years, said: "We have won the best of breed at other shows but this is out of this world.
"It was totally unexpected. There were tears in my eyes. I have been breeding them for 30 years. I was nervous about being on TV, but it will be a moment I will never forget."
Sunday was also a day of celebrations for Erin Logie from Barry, Carnoustie, and her Large Munsterlander called Scout.
Two days before celebrating her 20th birthday, Erin and Scout,  otherwise known as Albadhu Paws for Perfection,  won Dog Challenge Certificate and Reserve Best of Breed.
Erin, a receptionist for Parkside Vets, is no new-comer to Crufts having competed since the age of four.
Seven-year-old Scout was bred by Erin's mother, Nicky, who said: "We bred Scout ourselves but he lives with us as Erin's boyfriend is allergic to dogs.
"We have Scout's mum and his grand-dad. His mother also  got top brood bitch of the year at Crufts. Erin has competed at Crufts in the agility and dog obedience classes when she was younger."
After their victory Erin took to Facebook saying: " I'm still in shock – can't believe it. He was super, so proud of him. Such a special day."
A young dedicated dog trainer from Angus also returned home triumphant after her second visit to Crufts.
Megan Watson, 15, from Arbirlot, was part of the Scottish team competing in the Inter Regional Rally competition at the world-renowned dog show at the National Exhibition Centre in Birmingham.
She travelled down on Wednesday with her proud mum Katharine (Kat) and her two Cavalier King Charles Spaniels, Charlie and Ruby.
Megan and Ruby competed in the young kennel club's agility and jumping classes but, despite a clear round, they were not placed.
However, up stepped Megan and her three-old old Charlie's A Darling, who put on a memorable performance as part of the Scottish rally obedience team.
Kat said: "They finished fourth; Megan was over the moon and I was so very proud.
"It was a big surprise as Charlie is normally quite shy at these things but he was fantastic.
"Megan trains on a Tuesday night and helps at dog training classes run by Margaret Hudson. She also trains on Saturday and Sunday at Crombie.
Megan's fourth place at Level 1, along with a first place at Level 2 from Pam Cuthbert, Dundee and her four-year-old Border Collie Maccadale; a fourth place in Level 3 for Karyn Thomson from Renfrew and her eight-year-old crossbreed Bailey Bongolight and third place in Level 4 for Amy Jackson from Glenrothes and In a Minute Jess, saw the Scottish team finish in third place overall.
Rally is the latest dog sport to be recognised by the Kennel Club.
It involves the owner and dog working as a team to navigate a course with numbered signs indicating different exercises to perform.