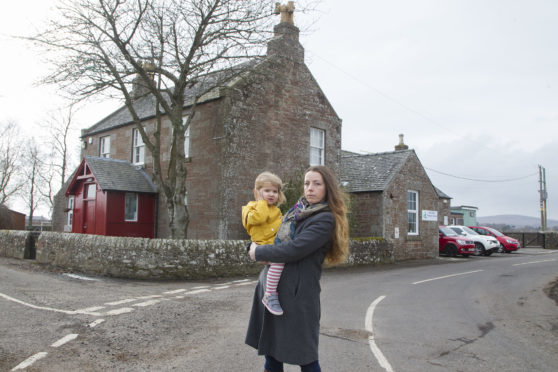 Angus Council has bowed to parent power and will hold a public meeting to discuss plans for the future of Stracathro Primary School.
It comes after families campaigning against the proposed closure of the rural primary branded its attitude towards the statutory consultation process "borderline arrogance."
Parents were angry about the council's refusal to hold public meetings during the consultation period for the proposed closures of Tarfside, Lethnot and Stracathro Primary Schools in the Brechin cluster.
Similar meetings were held as part of the consultation process for the closure of Timmergreens and Muirfield primaries.
The Stracathro parents said current legislation states it is a "legal duty" of the council to ensure a public meeting is organised, all consultees are notified and it is conducted in a timely manner.
Lee Ann Waddell, parent council vice-chairman, raised the issue of lack of public meetings with Angus Council representatives at an Edzell Parent Council meeting and was informed four scheduled drop-in sessions would be held.
She said this was not good enough.
"A drop-in session specifically denies the relevant consultees the opportunity to hear the concerns of all quarters and as such removes their capacity to come to an informed position," she said.
"We have written to the chief executive officer highlighting the council's failure to comply with their obligations.
"This latest failure to engage directly and effectively with local communities is a further example of where the people of Angus feel neglected by their council and councillors.
"The attitude shown by Angus Council is one of borderline arrogance and belittles the very community the legislation is there to protect."
A council spokesperson insisted the authority had met its legal obligations regardiing the consultation, but revealed a public meeting would now go ahead.
"The four scheduled drop-in sessions will enable interested stakeholders to receive information, ask questions, raise points for clarification and, should they wish, complete the consultation questionnaire," the spokesperson added.
"This approach will enable individuals and families to engage in a conversation with council officers that is specific to their needs and their areas of interest in relation to the consultation proposals.
"We are encouraging all interested parties to engage with the consultation process including these sessions.
"We have also had an approach from some local residents for a more formal public meeting.
"We recognise it is important the council has the time to listen and consider all comments, and we will be holding an additional public meeting as part of our formal consultation process of our proposals.
"Details are being finalised and we will advertise this additional date, as with our previous consultation notices, in the press and on our website."