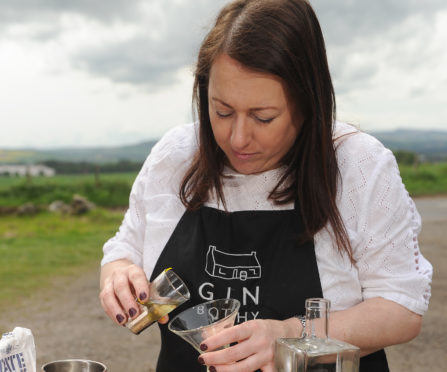 Flawless food and delectable drink from Angus will be celebrated in a week-long festival which started on Monday.
The Taste of Angus Festival got under way across the county with a wide-ranging array of events planned.
Angus Provost Ronnie Proctor joined local foodies at Kirriemuir's award-winning Gin Bothy with a toast to the region's victuals.
The provost was joined by local producers and representatives of Taste of Angus which is the food and drink campaign led by Angus Council's economic development team.
"The Taste Of Angus Festival is a wonderful showcase for the top class produce grown, reared and caught in our county," said the provost.
"This highly popular annual festival provides opportunities for people from near and far to discover our freshly-picked seasonal fruit and vegetables, our excellent seafood, our renowned beef, game, poultry, lamb and pork and, of course, our fabulous whiskies, beers, vodkas and gins."
The Taste of Angus Festival runs until March 25, with events ranging from a ghost walk with a three-course meal, a distillery tour, farm visits, a coffee, pizza, bread and beer afternoon and a pie, beer and gin evening.
"The Taste of Angus Festival features a fantastic selection of special events, menus and tastings," said Merlyn Dunn, Business Manager at Angus Council.
"Bookings are high for many of the events, with several already full.
"The Taste of Angus Festival raises awareness of the excellence, availability and variety of local produce, eating places and exciting food and drink experiences, including the new tasting room at Gin Bothy, where special gin and liqueur tasting afternoons are being held this week, and the delicious Artisana Brownies we tasted at the launch."
The Sacred Grounds Coffee Company is opening the doors to its Arbroath-based roastery, hosting a pop-up showcasing some of Angus's finest producers on Sunday from noon until 6pm.
To add an element of culture, local artist Amy Anderson will be hosting a small exhibition of her work in the roastery.
For more information about the Taste of Angus Festival 2018, the full programme of events and booking details, visit www.visitangus.com/tastefestival