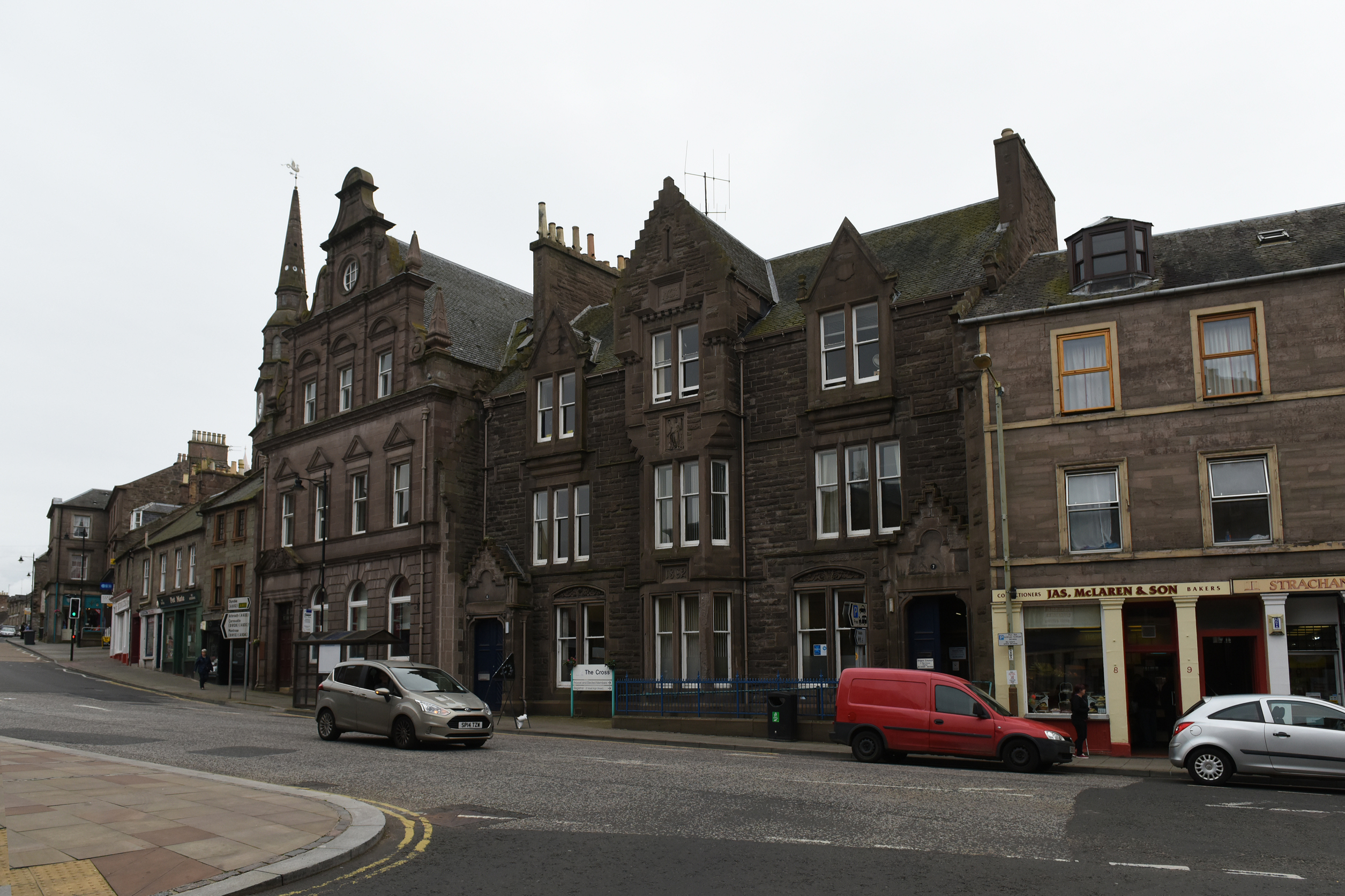 The sale of historical council buildings in the heart of Forfar has been agreed "in principle".
Angus Council's sale of 5-7 The Cross to Voluntary Action Angus (VAA) is still not a fully done deal and negotiations have been described as "delicate".
The official report from the meeting of Angus Council's policy and resources committee, which was held in private, stated that the committee agreed to approve the sale "in principle, to allow the purchaser to undertake its survey of the premises" and "thereafter to formally accept the offer and to vacate the property".
It is understood there is still a chance it could fall through and the offer is believed to be substantially lower than what was offered four years ago by pub giant JD Weatherspoon.
Depute provost and Forfar Independent councillor Colin Brown said: "We are in the middle of trying to broker a deal.
"If that deal is struck there will be a lot of movement. I know there hasn't been a deal made and things are delicate.
"That's why it's being kept private and I can't really say much more. But things don't stay secret in Forfar for very long."
Mr Brown admitted there have been rumblings in the town about the offer and whether the council would be getting enough money.
He said: "There are people who are concerned about the town centre.
"Some are asking if we are accepting a deal simply to get the building off our hands."
The sale of The Cross called in private last week just minutes after councillors agreed to a £95,000 service level agreement with VAA to support its ongoing work in the third sector.
The Cross is one of a number of surplus council buildings the local authority has been struggling to sell for a number of years.
Pub giant JD Wetherspoon had the historical buildings in its sights for a second Angus outlet, but backed out of a six-figure deal after a storm of controversy over a planned closed doors deal between the local authority and the hospitality giant.
Wetherspoon offered £400,000 for the three-storey, 150-year-old property at 5-7 The Cross in a surprise approach in 2014 and the bid was poised to be accepted after councillors voted in private to take the cash.
However, when news of the planned sale leaked out, a local businessman trumped the pub chain price, forcing a council u-turn which saw the prominent building put on the open market. No formal offers were received.
Wetherspoons subsequently came back with a reduced offer of £350,000, which was accepted by the council but in a further twist the firm backed out and said it would not be coming to Forfar.
Mr Brown was suspended for two months following the debacle after he was reported for failing to declare an interest during discussions surrounding the sale of The Cross to the pub chain.
A spokesman for Angus Council said: "The Cross has been marketed for sale having been deemed surplus to requirements and we are currently in the process of disposing of this asset."