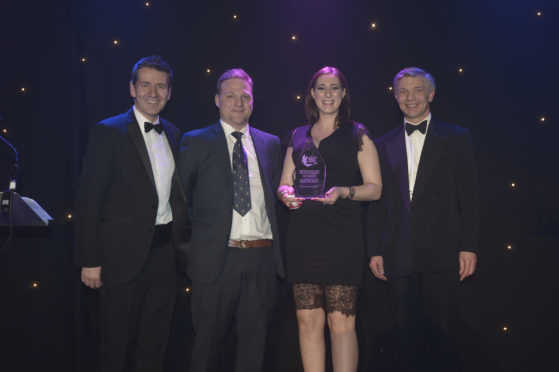 Angus organisations won a brace of awards at the prestigious Scottish Rural Awards ceremony.
The glittering black tie event at Our Dynamic Earth in Edinburgh, saw Angus Glens Moorland Group (AGMG) top the Conservation and Environment category, while Kirriemuir music charity DD8 Music hit all the right notes when they won the Tourism category.
AGMG was set up just three years ago with the intention of showcasing work and community life in remote Angus glens, and the award reflected the broad spectrum of their work.
The gamekeepers were recognised for their skill and hard work across a broad spectrum of work, including protecting globally rare heather habitats and red-listed moorland birds — whilst also providing quality grouse shooting, game, stalking and angling.
The group also encouraged a growth in number of Curlew, Lapwing and Golden Plover by legally controlling abundant predators.
The wider activities of AGMC also saw them introduce family care and homeless charities to game tasting by delivering free oven-ready game to the vulnerable.
Gamekeeper Alistair Brown said: "It was a great achievement to be nominated in the category for conservation and the environment.
"We did not expect to win because there were so many fantastic finalists. We feel very passionate about the countryside and the need for better education on what land and wildlife management delivers for species, environments, communities and in keeping employment and families in our glens. It is a real honour."
DD8 Music scooped the tourism category to honour their hugely successful  Bonfest music festival that has now become an annual feature in the town, and attracts visitors from across the world.
The rock music festival celebrates the music and legacy of AC/DC lead singer Bon Scott, who started his life in the town.
The charity were also behind the life sized  bronze statue of Bon that now brings people into Kirriemuir 365 days a year.
DD8 Music Chairperson Graham Galloway said "DD8 is incredibly honoured to have won this amazing award.
"We were up against some incredible competition, and were honestly just happy to have made it to the finals.
"To actually win it is just incredible, and is testament to all the hard work our team has put in over the years.
"I would like to say a huge thank you to all of the DD8 Music committee and volunteers, past and present. This one is for you all."