A Monifieth man says the case for a plastic bottle deposit scheme couldn't be clearer — after he found litter dating from the 1970s on his local beach.
Paul Morgan, 55, says he saw thousands of plastic bottles along just a few hundreds yards of beach at Barry Buddon this week while walking his dog.
While litter and debris is something he always sees on the beach, he was shocked to discover that one of the bottles even pre-dated decimalisation.
Mr Morgan said: "It's probably the worst I've seen it. I think it's the Beast from the East effect. Apparently, the east wind has been blowing everything from the North Sea on to our beaches.
"There must have been a couple of thousand bottles spread over just 500 yards or so. When you consider that's just one part of one beach, you realise how much plastic must be in our seas and rivers."
The Scottish Government's Programme for Government 2017-18 includes proposals for a plastic deposit return scheme in Scotland, similar to those operating in many European countries.
Shoppers would be charged extra when buying plastic bottle products but be reimbursed when they returned them for recycling.
After witnessing the true scale of our plastic problem, Mr Morgan says he would support such a move.
"It's a great idea," he said. "We've already accepted the 5p carrier bag charge so we've become used to paying extra for plastics and we should be able to accept it for bottles as well.
"One of the bottles I found had an offer printed on it to save 6d. Decimalisation happened in 1971, so that bottle could have been swilling around for 47 years.
"There was another one from the early 1980s. It shows something we carelessly discard today could still be doing the rounds in the ocean half a century later."
Zero Waste Scotland has been working with the Scottish Government to draw up plans for the deposit scheme.
Its chief executive, Iain Gulland, said: "We're excited about the potential of deposit return to increase recycling and help stop the litter blight.
"The Scottish Government has tasked Zero Waste Scotland with designing the best possible scheme for Scotland, leading the way in committing to deposit return.
"Dealing with litter and fly-tipping costs £1 million a week of public money in Scotland – and we estimate that over 20 million plastic bottles are littered in Scotland each year.
"Deposit return schemes in other countries have shown a return rate of around 90% for targeted containers.
"That shows just how big an opportunity deposit return affords to turn the tables on litter for good."
Catherine Gemmell, Scotland conservation officer for the Marine Conservation Society, said a deposit scheme is badly needed as the plastic pollution problem appears to be getting worse.
She said: "Every tide Scotland is seeing more and more plastic hitting our beautiful beaches and our volunteers who spend time surveying and cleaning this plastic have seen a particular rise in items like plastic bottles over recent years.
"One of the big issues with plastic is that it never truly disappears when it enters the ocean but just breaks down into smaller and smaller pieces of plastic, turning our seas into a plastic soup — not good for our seas or our wildlife."
She said MCS volunteers had helped to compile data that made the case for a deposit scheme, and added: "We were delighted when we heard First Minister Nicola Sturgeon announce that Scotland would be the first country in the UK to commit to introducing a deposit return system last year.
"Once the deposit return system is in place we hope to see our volunteers finding fewer bottles and cans on our beaches following the same success as the 5p carrier bag charge, which saw a 40% reduction in bags on our beaches."
For more information and to support the MCS' work visit www.mcsuk.org.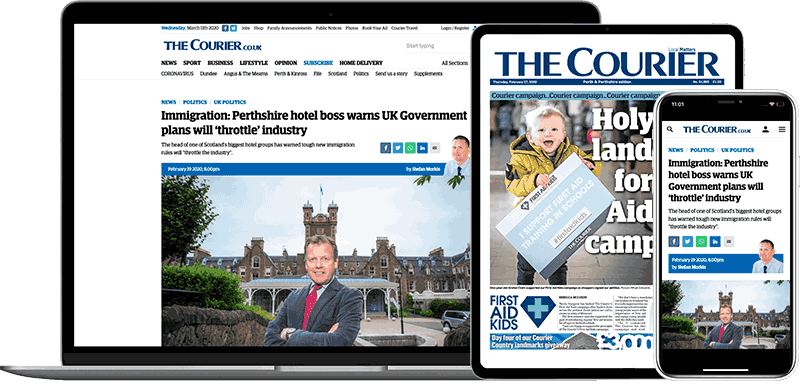 Help support quality local journalism … become a digital subscriber to The Courier
For as little as £5.99 a month you can access all of our content, including Premium articles.
Subscribe