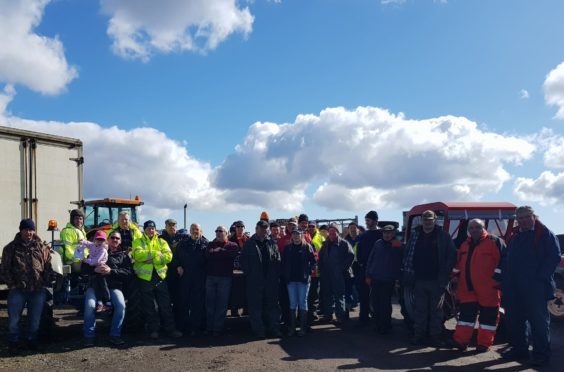 A Brechin family has been overwhelmed by the support they received at a fundraiser for the Glasgow hospital which saved their daughter's life.
Little Keira Robertson celebrated her fifth birthday last month – a milestone her parents feared they would never see when she was born with major heart and lung problems.
She owes her life to the skills of staff at the former Yorkhill Hospital, and whilst she has two year break from attending Ninewells Hospital in Dundee, the possibility of a heart transplant cannot be ruled out.
It was during Michaela's 20 week scan it was discovered Keira's main valves to the heart weren't pumping the right blood around the body correctly.
When she was born on March 28 2013, her heart and lungs stopped functioning when she was only nine minutes old.
She was rushed into surgery for a  procedure to keep the heart open and when she was eight days old endured open heart surgery which lasted for 10 hours.
Keira had a seven-night stay in hospital in November 2013 and a further three-night stay the following month, getting home just in time for Christmas.
Michaela said: "It is not definite that, one day, she might need a heart transplant, but it is always a maybe, it is always in the background."
Michaela and Christopher are delighted Keira is as healthy as can be,  although she has been diagnosed with Laryngomalacia (floppy windpipe).
On their Facebook page they said: "She has been given a two year break from Ninewells cardio clinic due to doing well heart wise, apart from narrowing of her valves.
"So proud of our little girl."
Keira attends Maisondieu nursery with her siblings, Kaiden, 9, and Bayley, 7, attending Maisondieu Primary.
The Robertsons continued: "We would like to raise money to give to Yorkhill as a thank you for saving our daughter.
"If it wasn't for all the surgeries she had she would not be here today.
"We would especially like to thank Mr Mark Danton for performing these amazing surgeries on our princess — he is one amazing man!"
Michaela, 28, and Christopher, 33, were delighted to welcome 32 vintage tractors which took to the roads throughout Angus for 'Keira's Vintage tractor Road Run'.
Both Christopher and his father Eric are vintage tractor enthusiasts and have had their beloved John Deere model since the 1970s.
The tractors, in all shapes and sizes, took to the Angus roads for a circular route, starting in Brechin and travelling in convoy via Guthrie, Tulloes, Padanaram, and Careston.