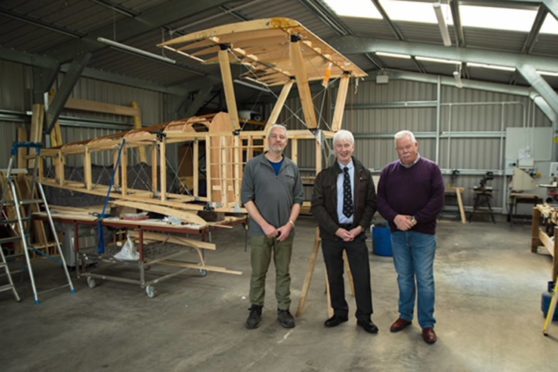 The grandson of a wartime flying ace has paid an emotional visit to Montrose Air Station Heritage Centre.
Dr John Todd was given a tour and viewed progress on the project to rebuild a Sopwith Camel – the machine in which his father scored 18 aerial victories during 1918.
He described the tour of the museum by chairman Ron Morris as "incredibly moving, stimulating and nostalgic".
Dr Todd's namesake grandfather joined the Royal Flying Corps as a cadet and was posted to No. 70 Squadron RFC to fly the Sopwith Camel single-seat fighter and scored his first victory on January 22.
Captain Todd was later posted to Montrose as an instructor after his final victory in July 1918 and was awarded the Distinguished Flying Cross followed by his Military Cross.
Post-war, he became a doctor and went to Malawi as a medical missionary.
He was later awarded the MBE for his good work. He died in St Cyrus in 1980.
Dr Todd said: "He was an incredible man, hero, pioneer, medical missionary.
"He was actually a very kind man and didn't revel in the act of accruing kills. He hated war.
"He witnessed the early death of so many men which he attributed, in part, to their use of alcohol to calm their nerves, whilst leading a terrifying existence, not of their choice, in these difficult times."
Dr Todd said his grandfather chose to isolate himself in an attempt to cope with the fact that many of his junior aircrew may be killed in action the next day.
He said: "He was such a young man, at 19 years the flight commander – his major having been incapacitated whilst starting a Camel in the usual propeller spinning fashion and being hit on the head.
"The physiological and psychological stresses arising from having to undertake intermittent and unpredictable interceptions in an aircraft with no canopy, pressurisation and means of escape whilst experiencing the bitter cold of the winter of 1917/18 at up to 20,000 feet took its toll.
"He suffered abnormally fast heart rate and palpitations which ultimately resulted in his repatriation to Montrose as an instructor of aerial combat."
As a consultant psychiatrist, Dr Todd said he believes his grandfather was struck down by a sort of combat stress disorder which could never be acknowledged in those times.
"The risk of claims of cowardice were serious, and the powers that be preferred to call it 'soldiers heart' for example," said Dr Todd.
"The RAF MOs attributed the cardiac symptoms to flying at high altitude without oxygen. It is the fact that he just got on with his duties regardless of his own peril which made him a real hero."
The museum's Sopwith Camel replica, made by RAF apprentices at St Athan in 1962, looked a bit tired and shabby so the decision was made to undertake a complete restoration.
The replica was stripped back to its frame and the team are restoring the aircraft to as near to its original specification as possible, including the building of a new set of wings, a real rotary engine and even real machine guns.
The Sopwith Camel was the most successful and famous British fighter aircraft of the first world war.