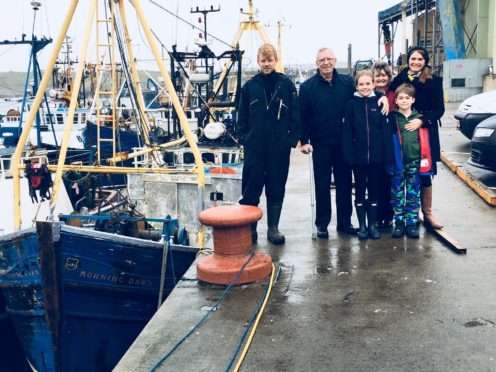 A former fisherman from Arbroath has been reunited with his beloved boat for the first time in more than four decades.
The Swankie family's fishing trawler was sold in 1974 but skipper Jim Swankie's love for the Morning Star grew stronger as the years passed.
A large photograph of the boat hangs in his home and Mr Swankie built three scale models of her by hand.
Attempts to find her over the years had come to nothing and he had all but given up hope of ever seeing her again.
However, daughter Jillian Schofield knew how much the boat meant to her dad and secretly set about trying to track her down.
Her quest led her to the Facebook group Red Lichties Worldwide and the discovery that Morning Star – now called Morning Dawn – is still working out of the small coastal village of Ardglass in Northern Ireland.
She made contact with the boat's current skipper Stewart Curren and hatched a plan for a special 80th birthday surprise.
Mr Swankie's family told him they were taking him to see the Titanic exhibition in Belfast and, en route to the city, they checked into a B&B in Ardglass.
There, they took a stroll to the village harbour, where the birthday boy finally set eyes on his "special boat" which was tied up at the marina.
Jillian said there were tears of joy in her father's eyes when he recognised the old boat.
"I wanted to do something very special for my dad's 80th and I even baked a Morning Star cake for him," she said.
"He had absolutely no idea he was here to see the old boat and has been quite overwhelmed."
Mr Swankie thought the world of his grandparents and followed his grandfather Jimmy into the family tradition of fishing at the age of 15.
He was involved in the design of the Morning Star which was built by McKay Boat Builders for the family in 1970.
Jillian said: "The boat was one of the most successful to fish out of Arbroath, so in that respect held happy memories.
"She was also launched the same year I was born and dad was delighted to have a baby girl after having two sons (James and John) so it was a happy time."
Mr Swankie was joined on the surprise trip by wife Jane, Jillian, and grandchildren Adriana and Aaron.
Mr Swankie said he was thrilled with his birthday reunion.
"I've always been looking for her but I'd never seen her again until this week," he said.
"I was very emotional when I saw the boat.
"I was also quite confused as I couldn't remember her being so large.
"I've been quite overwhelmed and just want to thank everyone who has wished me a happy birthday."
Current skipper Stewart Curren said the 48-year-old boat was still a real work horse.
"I enjoyed meeting the family and hearing all the stories from Mr Swankie on how she was built and how he'd fished with her," he said.
"She's been a lucky boat for me too."