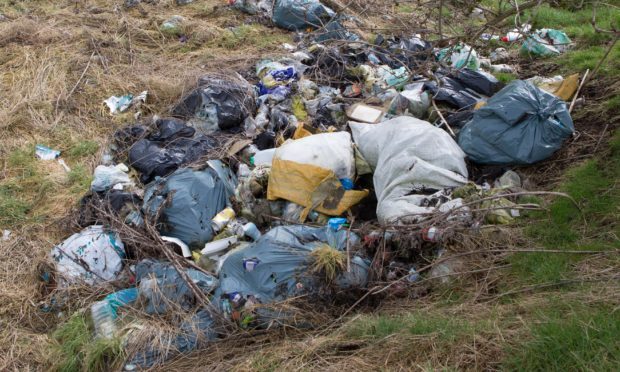 Fly-tippers using a trackside embankment in Angus as a rubbish dump have been told they could cause a rail tragedy.
Building materials are being thrown down the steep embankment at Warddykes in Arbroath opposite a conservation area.
The situation has been ongoing for months and anti-litter groups have warned the rogue dumpers are potentially placing rail users at risk.
Vandals caused a potentially serious derailment of a passenger train at Inverkeilor in 2012 after an obstruction was placed on the tracks.
Jean Stewart, from Angus Clean Environments, said: "We all despair when disaster strikes and know it should never have happened.
"We all accept a costly enquiry follows and we all say this should never happen again.
"Someone somewhere has to start shouting louder to make communities realise we are all to blame because we allow most of these disasters to happen.
"The individual who dumped these materials is not just committing a criminal office but potentially placing rail users at risk.
"We all remember the recent derailment at Inverkeilor as a result of similar objects being on and close to the railway line.
"Network Rail have a duty of care towards the public and must take immediate action to to identify the source of these materials and remove them."
Arbroath East and Lunan Conservative councillor Derek Wann said: "The disgraceful littering that we are seeing which is blighting our town and countryside is unnecessary.
"We as residents of Angus need to consider carefully where we put our litter and dispose of it responsibly.
"We have recycling centres and they are well used so why do a minority of people feel it necessary to dump rubbish sometimes at the side of railways and roads?
"This mindless fly-tipping could cause a serious car accident or derailing of a train."
Ralph Coutts, from the St Vigeans Conservation Network, said: "The fly-tipping of building materials was first reported two years ago but still nothing has been done.
"It's a matter of time before something is going to fall on to the tracks."
A build-up of litter in the undergrowth behind the signal box at Arbroath railway station was also described as "embarrassing".
He said: "I feel Network Rail have let Arbroath and the conservation village of St Vigeans down.
"They say they care about the environment but they're not getting involved with community groups and they need to at a local level.
"I spoke to a lady who uses the railway to commute to work and she's been in tears at the mess around the railways."
A Network Rail spokesman said each year 1,200 tonnes of litter is removed from the railway in Scotland.
He said: "Litter collection and fly-tipping instead uses up maintenance staff time that could be better spent on duties that would further improve the performance of our network and the service we provide the public.
"Our engineers will inspect the area and we are always available to work with local authorities to help address the causes of fly-tipping."