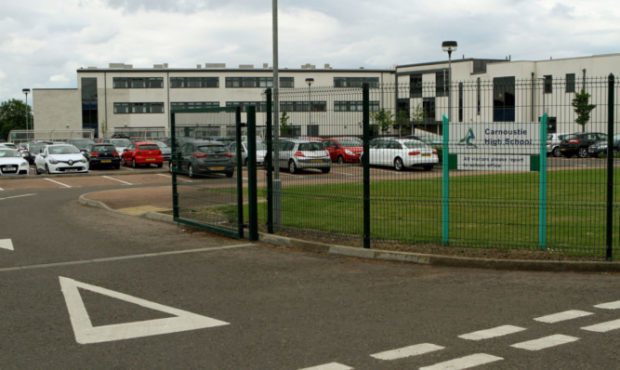 Pupils have called for a Tayside minister to be axed from a school chaplaincy role after accusing him of being a bigot.
Rev Mike Goss said he was "very disappointed" after a petition was lodged urging Carnoustie High to sever its links with him.
He has now offered to meet members of the LGBTQ+ community at the Angus school to discuss their concerns.
The petition demands the school ends its arrangement with Mr Goss, accusing him of being against gay marriage.
Critics claim he is "homophobic" and has stated his hatred for the LGBTQ+ community "on multiple occasions".
Mr Goss, minister of Barry, which is linked with Carnoustie, described the petition as a "tissue of lies" and said the allegations were "potentially actionable".
He said: "I am certainly very disappointed to see this petition appear on social media, as I have enjoyed and continue to enjoy good relationships with the High School and both primary schools where I am chaplain.
"School chaplaincy is a voluntary provision by church ministers which depends on the invitation of the schools themselves, and I have always treasured these links with the local community and any support that I can provide to staff and pupils, sometimes in difficult situations, regardless of their race, faith or gender."
Mr Goss opened a formal protest over the Church of Scotland's move to back same-sex marriages among ministers in 2016.
He also gave an interview to BBC Scotland last year where he stated that "same-sex relationships are not what God has planned for us as human beings".
Student campaigners claimed it was "appalling" that the school had not cut its ties with Mr Goss.
The petition claims he will "keep being bigoted" in the school and community "unless we find a way to remove him".
Mr Goss responded: "No-one 'deserves' God's love – I believe that God loves every single human being unconditionally, not because any of us have earned it.
"I have never ever said that I hate any member of the LGBTQ+ community, nor do I hate anyone, as far as I am able to determine my own heart.
"I met with members of the school inclusion group last June to discuss their concerns.
"I would be happy to do so again."
Mr Goss said not one single minister in the Church of Scotland was able to conduct a same sex marriage.
He said: "Until the denomination as a whole permits it, no individual is licenced to conduct a same sex marriage.
"This is true for most denominations in Scotland, including the Roman Catholic Church, the URC, the Free Church of Scotland and others.
"I'm not prepared to return to the processes of the General Assembly over the past five or six years, but suffice to say I was only the first named in a long list of commissioners whose dissent was recorded to a decision of the General Assembly."
Carnoustie High set up an Inclusion and Equality Group last year to raise awareness of LGBTQ+ rights.