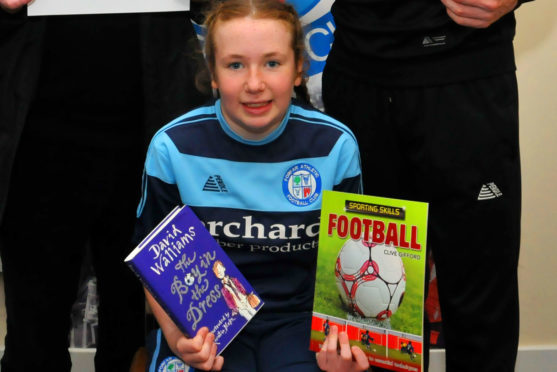 Avid reader and Forfar Athletic fan Lexi Williamson has scored herself a free ticket to see her home team play at Station Park after successfully completing the club's 4-4-2 reading challenge.
Lexi, a pupil at Strathmore Primary School in Forfar, was the first to complete the challenge by reading four books as part of a pilot project designed to encourage more children to read.
The Loons have been working in partnership with 14 SPFL clubs, local libraries and Angus Council to deliver the 4-4-2 Reading Challenge which aims to inspire children aged from five to 12 to read four books in exchange for match tickets.
The initiative centres on a reading "challenge card" which participating clubs and libraries have been issuing to their young readers.
For every book read, children recieve a stamp on their card.
After four books, participants in the Forfar scheme receive a free match ticket for a home league match at Station Park, while an accompanying adult is able to purchase a discounted ticket.
More than 200 libraries from 11 of Scotland's 32 local authorities are involved in the test project, which is funded by the SPFL.
The SPFL Trust teamed up with the Scottish Book Trust to help run this initial three-month campaign.
Ken Stewart, Forfar Athletic chairman, said the club was thrilled to reward one of its most loyal young supporters in such a worthwhile way.
"We are pleased to be part of the SPLF Trust 4-4-2 programme," he said.
"Lexi is a regular at our matches, both home and away, and we are delighted she is our first young person to complete the challenge.
"We wish the SPFL Trust and Scottish Book Trust every success with the 4-4-2 and would encourage other clubs to sign up".
Jim Weir, Forfar Athletic manager, added: "It's great to see the club working in the community on such a worthwhile programme.
"We hope to see all of our 4-4-2 readers use their tickets at one of our home games in the not too distant future".