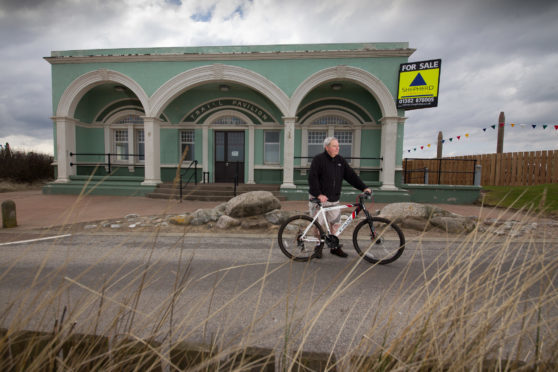 Hopes are high the Traill Pavilion in Montrose can be returned to its former glory.
A group of residents want to arrange a community asset transfer so they can restore the beachfront building to public use.
Angus councillors agreed in January to sell the listed property, which is in need of a £30,000 facelift.
It became part of the Montrose Common Good after it was gifted to the town when it opened in 1913.
More recently it was used as a public toilet and as a café, until the lease ended in 2016.
David Wood of the newly-formed community group behind the asset transfer bid, said locals were hoping to avoid the "bizarre" position of trying to raise funds for a building that already belongs to them.
"The reason given by the council to declare the building surplus to requirement was they did not want to spend an estimated £30,000 on required repair costs (mainly painting) as well as future maintenance costs," he said.
"We are seeking to assume ownership or leasehold for the building by community asset transfer.
"Seeking to match the commercial sale price, around £30,000 we believe, could lead to the bizarre situation of the Montrose community trying to raise funds to buy a property that was actually a gift to the people of Montrose and part of their Common Good."
As well as working towards a community asset transfer for the pavilion, Mr Wood said the group wanted to help regenerate and promote the beach area.
This includes fundraising for beach clean-up equipment. Members are also developing a website.
Mr Wood said the town had a lot to offer visitors.
"We have the fantastic Splash play park, a great caravan park, the golf course and the beach itself," he said.
"We could make such good use of that building for various mini projects we want to undertake.
"We want to open the pavilion's toilets, open it up for community groups as a general meeting place – we have about 101 uses for the building."