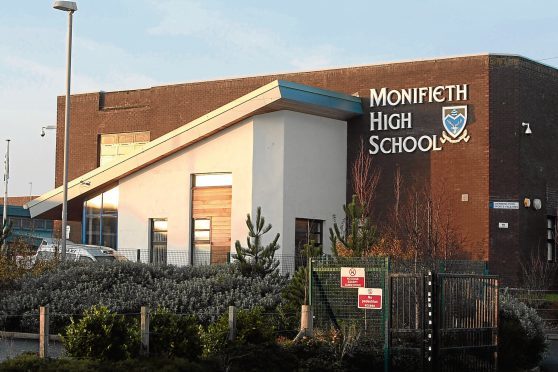 A community consultation on the future of education in the Monifieth area will not include the option of a new secondary school in the Birkhill area.
The announcement comes despite Angus Council's SNP group sounding a warning that the "health and wellbeing" of Sidlaw pupils would "continue to be disregarded" unless the option was kept on the table.
The SNP's amendment to consult on the Birkhill option went to a vote but was defeated 14 to nine as the recommendation to remove it from the options available for community consultation was carried during a special meeting of Angus Council in Forfar on Thursday.
Mark Armstrong, the autority's strategic director of people, said there are approximately 300 children travelling every day from the Birkhill area to Monifieth High School.
He said the creation of a new school in Birkhill to incorporate the primaries of Auchterhouse, Liff, Strathmartine and the village primary was "not considered viable at this stage".
Mr Armstrong said the school would need to be shared with both Dundee City Council and Perth and Kinross Council.
He said discussions have taken place with Dundee and Perth but at this point it is "not a shared priority for all three councils".
Monifieth and Sidlaw SNP councillor Beth Whiteside said: "I fully appreciate that the option depends on the cooperation of sister councils in order to make it viable.
"However, I strongly feel that unless the health and wellbeing of our Sidlaw pupils is to continue to be disregarded for generations to come we need to keep this ambitious option open.
"We need to recognise it as an aspiration of Angus Council and reopen negotiations with our neighbouring councils and the Scottish Government."
She said hundreds of pupils from Monifieth and Sidlaw spend around one-and-a-half hours every day sitting on a school bus which "excludes many from extracurricular activities, removes opportunities for active travel, reduces their leisure and study time and generally adversely impacts their quality of life".
SNP Monifieth colleague Sheila Hands said it was "a shocking way to run a consultation", while Brechin SNP councillor Kenny Braes said taking the option off the table was "a slap in the face for a lot of people in the rural community".
Brechin Independent councillor Bob Myles said its sister councils in Dundee and Perth "don't have this as a high priority".
He said: "If we go into consultation with this I fear we will be raising expectations that this can go forward.
"It would be wrong to take this forward at this stage."
The blueprint for future education in Monifieth will now go out to community consultation without the Birkhill secondary option.
The outcome will then be brought back to a meeting of the children and learning committee in November.
The options the authority will consult on are reviewing the existing catchment area of Monifieth High; extending Monifieth High and Mattocks Primary and refurbishing Grange and Liff primaries; replacing Monifieth High and Grange Primary with an "all-through" school; creating an "all-through" community campus with additional facilities beyond the replacement of Monifieth High and Grange Primary; refurbish and increase capacity at Mattocks and Liff primaries and develop an all-through school to accommodate Monifieth High and Grange Primary; and develop Monifieth High to include community facilities, but with no primary element.