Loyal Lichties have been remembered in the presentation of new trophies to Arbroath FC which will honour the latest generation of Gayfield stars.
Geordie Baird and Angus Nairn were well known figures to all associated with the Red Lichties, having been lifelong supporters of the club into their 80s.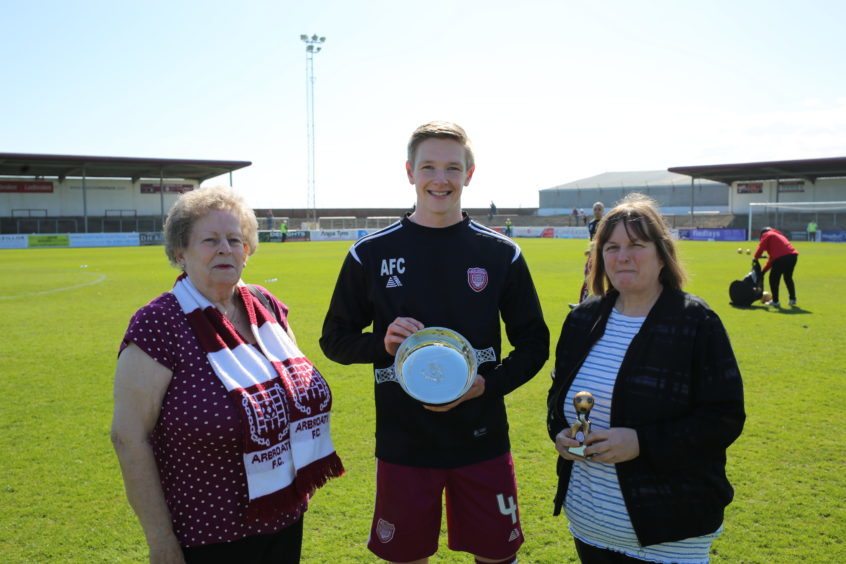 Geordie died suddenly earlier this year at the age of 83 and in a mark of respect the Gayfield flag flew at half-mast at the first home game after his passing, and as the funeral cortege carried him past the park on his final journey to Arbirlot kirkyard.
Geordie's son, George, wife Linda, and their son Reece, decided they wanted to acknowledge and commemorate the link between him and the club, and have now donated a silver quaich which will be awarded to the Arbroath management team's player of the year, with the first recipient being Thomas O'Brien.
George said, "My dad loved his football at Gayfield, and loved his Saturdays with his football pals, and we wanted to find a way of thanking the club for the pleasure they gave him over the years.
"On his 80th birthday he received a letter from the then-club chairman John Christison recognising his loyalty as a supporter and it became one of my dad's prized possessions."
Arbroath FC chairman Mike Caird said, "I knew Geordie for many years and like many others at the club appreciate his loyal and faithful support for Arbroath Football Club.
"We had many a chat about the fortunes of the team over the years so it is a fitting tribute his family have donated this trophy to be presented each year in his honour "
Mr Caird and George Baird both played for the Arbroath lads club and helped run it for a short time, and such was Geordie's love of the side that his funeral tea was held in the Gayfield hospitality suite.
The Angus Nairn Memorial Trophy was also been added to the Lichties' awards line-up, with Blair Yule chosen as this season's recipient of the cup which will go to the player regarded as the newcomer of the year.
Mr Nairn supported the club from the age of five up to his death in September 2017.
Angus's widow, Zena and her daughter Audrey were at Gayfield to make the presentation to Blair