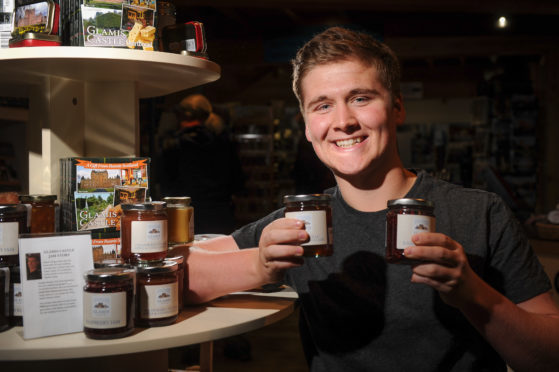 A teenage Angus entrepreneur is taking the business world by storm after securing a lucrative contract with Glamis Castle.
Owen Foster, who is in fifth year at Lathallan School, has successfully juggled studies with his flourishing business, Owen's Angus Jams, which began four years ago in his grandma's kitchen.
Now the 16-year-old, of Lunanhead, has recruited his parents and siblings to produce thousands of jars of jams and chutneys which are flying off the shelves at the Queen Mother's childhood home.
Owen's business acumen became apparent when he was only 12 and he began selling eggs round the village.
When the supplies dried up, he asked his grandma how he could make money and she came up with the idea of selling home-made jam.
Using a tried a tested recipe passed down through four generations, Owen and his grandma Joyce Morrison of Blairgowrie spent an afternoon making and bottling 50 jars of summer fruit jam which Owen sold for pocket money.
He said: "I came back to Lunanhead and sold them all within a week at £3 a jar.
"It expanded from there, we started experimenting and now make marmalades and chutneys.
"We have eight jams in the range and two marmalades but one of the most popular is strawberry, rhubarb, apple and cinnamon which was made by accident.
"Our best seller is strawberry and pink champagne jam and they are all made at home in my mum's kitchen."
Owen is supported in his business venture by his parents, Judith and Jim Foster, his sister Edana 10, brother Ethan, 15  and his grandma and grandad Joyce Allan Morrison.
"We have our own production line but without my family I couldn't do this.
"It does get stressful but it is good for the future and will look good on the CV."
Owen is in the middle of sitting his Higher and National 5 exams and is going on to study business at Dundee and Angus College after the summer.
He will also have stands at the Angus and Alyth Shows as well as the Dundee Flower and Food Festival.
Tommy Baxter, general manager at Glamis Castle, has been impressed by the teenager's commitment to producing thousands of jars of Glamis Castle jams marketed exclusively at the ancestral seat to the Earls of Strathmore and Kinghorne.
He said: "We heard about Owen's jams and was intrigued when we phoned to speak to him to be told he was at school.
"He came over with his mum we sampled the jams which are quite delicious.
"The fact he is doing this while still at school is really impressive.
"My first concern was could he do the volume as we are a fairly big business, but they assured us they could.
"The jams are sold with the Glamis own label. We started selling them when we opened for the season on March 30 and they are selling incredibly well.
"We will sell thousands of jars by the time the season is finished.
"It is a premium product, it's local, we know where everything comes from and are supporting local business which is what it is all about."