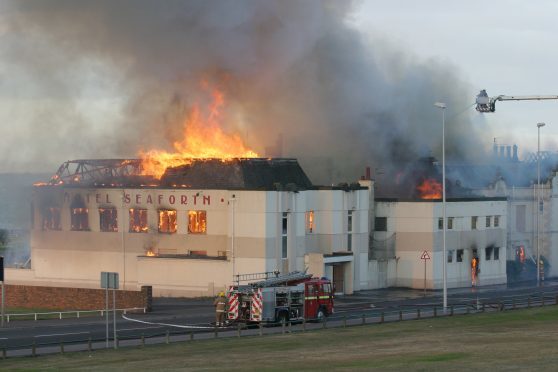 A new vision has emerged for the return of a gateway hotel in Arbroath.
Marston's submitted new detailed plans to Angus Council which include drawings of how the hotel/restaurant/pub will look.
The Seaforth site proposal involves a plan to create a 24-bed hotel, 150-cover restaurant and pub within the same building on the site.
The new plans follow public comments being made which included a suggestion that the original design was "a bit bland".
The Seaforth had been in operation for more than 50 years before it was destroyed by fire in 2006.
Arbroath East and Lunan Conservative councillor Derek Wann said: "I welcome the new designs for Marston's and the fact that they are looking to invest in our town.
"This is great news for Arbroath and will help to improve the gateway into the town.
"For too long that site has been empty and a blight on our landscape.
"Angus Council and especially our economic development team have been working hard to bring business and change to Arbroath and this is the first of some exciting developments that I hope will happen."
More than a decade after a ferocious blaze destroyed one of the Angus town's most famous function venues, the national pub and restaurant chain lodged a proposal for the site of the former Seaforth Hotel.
Marston's made a first foray into Angus a few years ago with the Dunnichen Stone pub/restaurant development at Orchardbank in Forfar.
The proposed development would bring back into use a highly visible site that has been described as a blight on the western gateway to the town.
The proposal previously received the backing of Angus Council's head of economic development.
Alison Smith said the development would make up for a shortage of serviced overnight accommodation in Arbroath and Angus.
Staying visitors generate a total economic impact of £193 million for businesses in Angus.
With the opening of the V&A Dundee in September, an additional 300,000 visitors are expected to visit the region.
The return of The Open to Carnoustie in July and the legacy of increased interest in the area will also add to the demand for accommodation.
The Seaforth was built as a private house in the 1820s and opened as a hotel in 1934.
It had 19 en-suite rooms, a leisure centre with a heated swimming pool and two function rooms.
In 1996 it underwent an exterior facelift as part of Arbroath's seafront improvement scheme and it retained many original features.