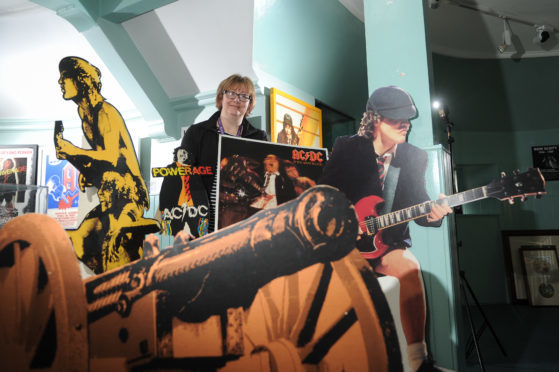 An expected Angus AC/DC invasion of 6,000 fans from across the globe this weekend will see a Kirriemuir Town Hall 'homecoming' for a family whose forebears jigged the night away to a more traditional tune there more than 80 years ago.
The wee red town is gearing up for what organisers DD8 Music are predicting will be the largest ever Bonfest gathering in honour of the Angus burgh's rock star son, Bon Scott.
VIP guests will include baker's son Bon's former bandmate Mark Evans, current AC/DC drummer Chris Slade and the singer's former girlfriend, Mary Renshaw, who met the rock hero when she was just 18 and Scott was performing as lead singer with The Valentines in Australia prior to hitting the big time.
Among the bands on the bill this weekend are Northamptonshire tribute outfit Dirty Deeds, whose drummer Matthew Anton will be following his grandfather's footsteps through the door of the Reform Street Town Hall after a family coincidence was unearthed.
Matthew's father, Lorne, said: "My family have long standing connections to Lethnot and Navar in Angus as well as Dundee and I have done a lot of research in The Courier archives in the British Newspaper Archives, finding many references to family members."
"My grandmother's family, the Molisons of Craigendowie, farmed at Lethnot and Navar for around 300 years."
During his recent research Lorne uncovered a report from December 21 1935 of the Kirriemuir Farmers' Dance in the Town Hall, a highlight of the local social calendar with 100 couples attending from across Angus.
The report read: "Reels, old fashioned waltzes, and country dances figure largely on the programme and music was provided by Cameron's Band, Kirriemuir."
Lorne added: "It then goes on to list the many guests and they included Mr James F Anton, my father and Matthew's grandfather, so when Matthew goes on stage to play with Dirty Deeds in the Town Hall it will be the same venue and a pretty amazing coincidence."
Mr Anton and his wife, Maureen, are also travelling north to enjoy the performances of Network Rail track engineer Matthew, 47,  and his bandmates in both the Town Hall and Kirrie's Thrums Hotel during the bumper weekend of entertainment.
"We have been back in the area many times, but it is the first time at Bonfest for ourselves and the band so we are really looking forward to it," added Lorne.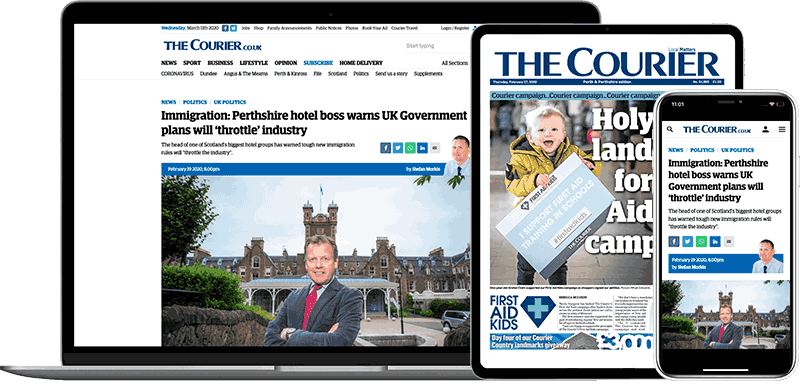 Help support quality local journalism … become a digital subscriber to The Courier
For as little as £5.99 a month you can access all of our content, including Premium articles.
Subscribe