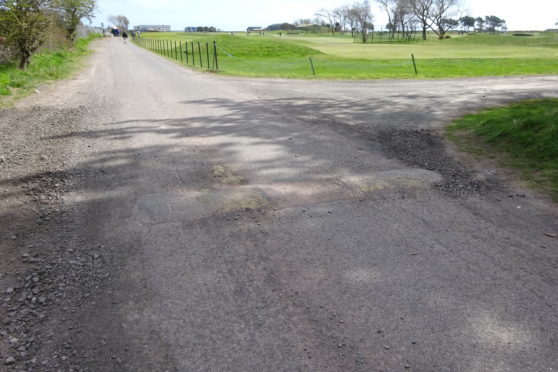 A pensioner is adjusting to life in the slow lane after being injured in a cycling accident at Carnoustie Golf Links.
Kip Fraser, 81, from Montrose, has been walking with a stick since the accident and is now undergoing physio as he battles back to health.
The accident happened during a group ride involving members on Cycling UK (CTC) and Angus Cycling Club members that meet in Forfar on Tuesdays and Fridays for a social ride.
Mostly retired people including two who are about 85 and still cycling strongly were part of the party of five when the accident happened on the cycle path between Monifieth and Carnoustie.
Mr Fraser said the path shares a road belonging to the golf club where there are speed bumps, painted yellow, with a space cut in the middle for safe crossing by cyclists.
The accident has been blamed on a combination of faded yellow lines and a build-up of stones blocking the cycle route.
He said: "It was a clear day but the shadow of the bushes at the side of the track obscured the view.
"The cyclists in front hit the bump but managed to stay upright but I wasn't so lucky and came off the saddle and hit the crossbar of the bike.
"I went down backwards and was lying on the ground stunned with my cycle helmet smashed in two."
Mr Fraser said the pain didn't set in immediately and he actually managed to cycle another 19 miles back to Forfar.
However, he was in considerable pain the following day when he got up.
He had suffered a nasty bang on the head and a groin injury and attended Montrose Health Centre for treatment.
Mr Fraser — who got serious about cycling 12 years ago after losing his wife — is now off the bike while he is undergoing physiotherapy for the groin injury.
Fellow cyclist John Richmond from Dundee said that over time the yellow paint has worn away and small stones collected by the bumps have made them hard to see and dangerous for cyclists.
He said: "Kip went crashing to the ground.
"With some scrapes and bruising he was able to carry on which was quite remarkable considering he is 81 years old but he is still feeling the effects of the crash.
"The ground staff from the golf club were very helpful providing a first aid kit and they assured us they would report it to their boss, recognising that the bump is hazardous.
"I was rather surprised  to ride the route 10 days later and find that the speed bumps have not been repainted yet and are still hard to see."
Angus Council said the path is on the North East Cycle Route, which is a private path and not the responsibility of Angus Council.
Carnoustie Golf Links Trust chief executive Michael Wells said work was taking place to repaint them this week.