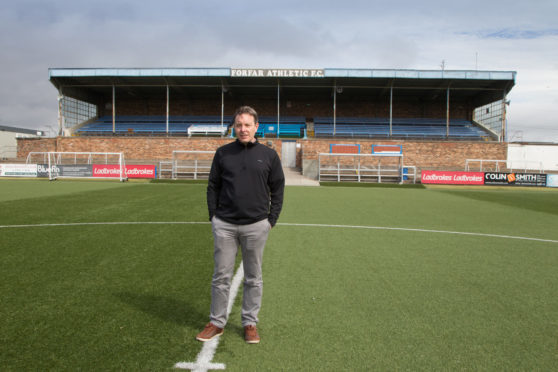 The closing chapters of Forfar Athletic's difficult 2017-2018 season have been captured in a light-hearted book on the Loons.
Mearns author Alex Russon, who has been a regular feature on the Station Park  terraces with his three children, has set out to capture the essence of the club and its strong community identity for his book, Sweet FA.
Alex, 48, a business banking manager with Barclays Bank, is hoping to score a hit with the venture which will raise funds for the club.
He started writing about Forfar Athletic in December, attending his first match with his daughter Emily, 11, and sons Freddie 9 and Ernie, 5.
He has written similar books about two amateur teams in the West Midlands but said stepping pitch-side at Station Park felt like something of a homecoming.
Alex said: "I lived in Birmingham until three years ago before moving to Laurencekirk.
"I had written about St Mary's and St Thomas amateur football clubs which I used to play for.
"My mother, Joyce Sharpe, was born in Forfar and grew up in Green Street with her sister Moira and brother Charles.
"I used to visit my granny in Canmore Street so I know Forfar pretty well.
"The book is about following a small provincial club like Forfar when you are used to following a big city club like Aston Villa."
Alex was born and raised in Birmingham but moved to Stonehaven with his family when he was 12.
He was educated at Mackie Academy before moving back to Birmingham when he was 17 to attend college.
His interest in following Forfar was sparked by a meeting with the chairman, Ken Stewart, in business circles.
"I have interviewed Ken for the book, as well as Marc McCallum, the keeper, who is from Forfar," he said.
"Also featured is David McGregor, a director for dozens of years who has only missed about 20 games in 50 years; he is Forfar through and through."
Club chaplain Brian Mulraine makes an appearance in the book, along with Ian McPhee, the club's longest-serving player, Forfar Farmington chairman Colin Brown and groundsman Martin Gray.
Alex said he had been struck by the strong sense of community around the club.
"Following Forfar is so different from following Aston Villa,  a big club with thousands of supporters," he said.
"Forfar means as much for the 400 or 500 fans as the thousands who turn up for Aston Villa.
"It was a terrific end to the season for Forfar – it did look as if they were doomed but they avoided relegation which was great.
"A lot of local people have bought into the club, the hospitality is sold out right from the start of the season, there is a real community feel."
The book will be on sale at the start of next season, with all proceeds going to Forfar Athletic Football Club.