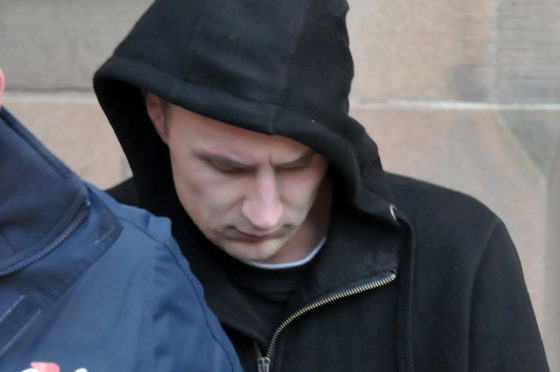 A serial domestic abuser previously branded a potential threat to any woman he became involved with has appeared back in court for offences against his latest girlfriend.
"Obsessive" Kevin McCallum from Forfar was ordered to serve almost three years behind bars for a string of verbal and physical assaults on former partners over eight years.
In one brutal incident he left dents in a wall after battering his girlfriend's head against it.
McCallum was made the subject of a supervised release order after his release, but has landed back in the dock at Forfar Sheriff Court over a text bombardment involving almost 200 messages.
The 31-year-old, of Strathmore Avenue, Forfar appeared for sentence before Sheriff Jillian Martin-Brown having previously admitted engaging in a course of conduct likely to cause fear and alarm to his ex-partner between March 17 and April 1 this year, wilfully or recklessly damaging her car on April 8 and breaching bail by contacting the woman.
Defence solicitor Nick Markowski said: "They had been in a relationship and upon separation Mr McCallum bombarded her principally with text messages.
"They weren't of a threatening nature, they were nuisance texts, asking her to get back with him."
The solicitor added: "Whilst he was on bail he contacted her and the damage to her car was committed when he was under the influence of alcohol.
"He got a 35-month sentence for a catalogue of domestic offences and normally offences such as this would mean a return to jail.
"However, he is on a supervised release order and for a whole year never put a foot wrong.
"It is only when he came out of this relationship that things went off track."
"Mr McCallum is awaiting psychiatric assessment and is aware of the position he finds himself in."
Sheriff Martin-Brown deferred sentence on a high tariff basis for three months, with a view to imposing a community payback order on McCallum when he returns to court.
Current restrictions on McCallum include a requirement to inform supervising officers of any new relationships and a ban on access to social network sites without prior notification.
He must not delete any search or history from computer devices without notifying supervising officers, and must allow inspection of them at any time.
McCallum will return to court in July when consideration of a non-harassment order to protect his victim will also be considered.
In December 2015, Forfar Sheriff Pino Di Emidio told McCallum: "It is plain you are someone that is a potential source of danger to any woman with whom you become involved."
The tyre fitter had become the subject of what was described in court as a "protracted" investigation carried out by Police Scotland's domestic abuse task force.
Previous partners described him as "obsessive and controlling".
His reign of terror over former girlfriends saw him smash one woman's head off an electricity box and bite her eye socket.
He would call them names and strike up an argument if a meal was not ready or a bath run for him.