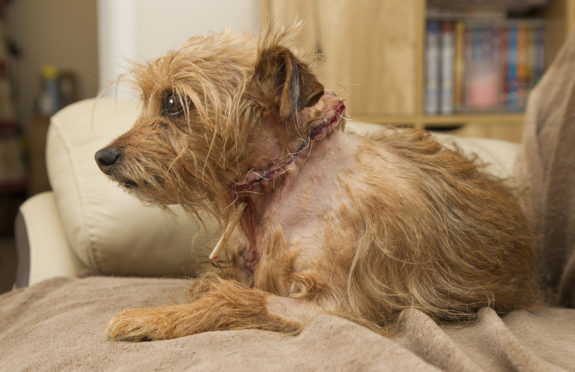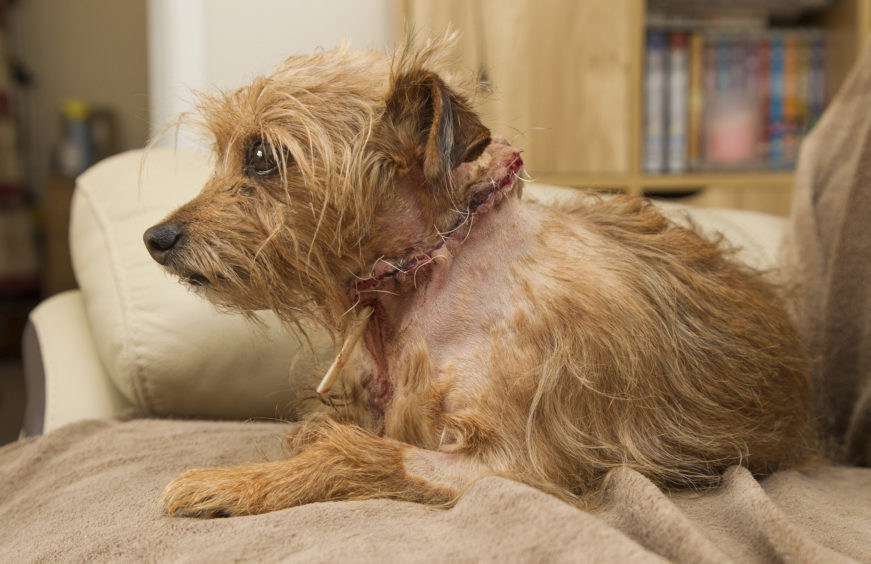 An Angus danger dog which savaged a terrier and brought fear to a local street has been destroyed.
Residents of Dishlandtown Street in Arbroath have learned that the owner of the Staffie responsible for a string of incidents involving other dogs stretching back into last year took the decision to have her pet put down.
A local man whose pet is still recovering from neck injuries sustained in an attack earlier this month expressed a mix of sadness and anger over the news, after it emerged the dog was made the subject of a control order in October requiring it to be muzzled and on a lead in public.
Daniel Billinghurst, who was walking his eight-year-old terrier, Dougal, past a block of flats in the town street when the dog pounced in a 9pm incident said: "I'm glad that a dangerous dog has been removed, however I do understand that dog wasn't born like that.
"The blame for the loss of this animal and the injuries caused to my dog and myself must lie with the owner.
"I was speechless when I found out that there had been issues in the past and that the owner had been served with an order to keep it on a lead and muzzled.
"If that order had been adhered to then my dog wouldn't have been at risk."
Mr Billinghurst had raised fears that the out of control animal could turn on a toddler walking in the street.
"Owners need to take responsibility for their dogs and I am still considering pursuing this through either my lawyer or somewhere like Citizens' Advice," he added.
Another resident of the street helped intervene in the May 3 incident by throwing water on the Staffie in a bid to get it to release the small dog from its grip.
She said the owner had informed her that the pet had been destroyed at the weekend.
"Obviously it's sad that it has had to come down to having the dog destroyed," said the neighbour.
"But the dog was in her care and for her sake, and the sake of everyone else, I don't think there would have been anything else she could have done.
"It's relief for people in the area who were frightened to go out with their dogs.
"For us it was a situation that happened many times a day when we were taking our dog out and we had to make sure it wasn't going to be there because we just couldn't trust it."
A woman believed to be the owner of the dog earlier declined to comment and denied owning the pet.