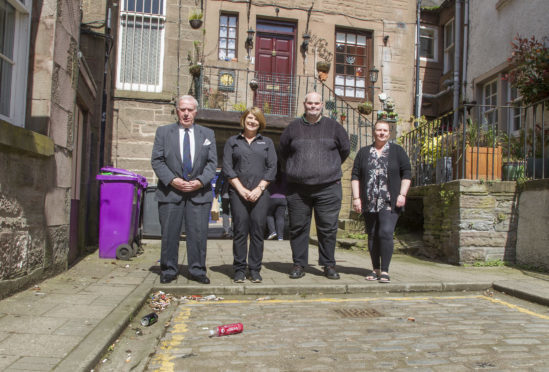 A historic street in Forfar which draws visitors from around the world has been given a deep clean thanks to local business owners.
The trio have rolled up their sleeves to rid Osnaburg Street of litter, and are now hoping to officially adopt the cobbled stretch of road which leads from the town centre to The Vennel.
The nature of the street, known locally as The Pend, acts as a wind tunnel which whips up discarded rubbish.
Dawn McFarlane of the Osnaburg Bar has called time on the litter louts, along with Neil MacKay of The Pend Emporium and Jacqui Robb of Auntie Jacquis.
They said: "We take pride in our street and want it to be welcoming and clean; we are being proactive and sweeping the street ourselves."
The three are met with a regular trail of cigarette ends, discarded coffee cups, sweet papers, straws and wrappers from local take-away outlets.
They have gathered up bags of discarded rubbish and ask those who use the pend to put their rubbish in bins.
They have carried out a number of "end to end" sweeps, filling a number of large bin bags with litter.
They added: "Please help us by not throwing litter down in the street,  put it in a bin."
Dawn explained the three are now working behind the scenes to officially adopt the street.
She said: "We had a road sweeper who used to come along Osnaburg Street .
"He took pride in the street, and we would clean it up at the weekend.
"He retired a few weeks ago and now no-one comes near Osnaburg Street.
"We feel it is a historical street which attracts a lot of interest.
"Visitors come to look at it but the litter is absolutely disgusting."
Colin Brown, Independent councillor for Forfar and District,  welcomed the steps being taken by the three businesses.
He said: "I think this is a great idea.
"I am working on how we can get more small streets to join them and how this can be embraced by the council."